Harper's 50th anniversary: Ties run deep for many families like the Basches
Harper's 50th anniversary: Ties run deep for many families like the Basches

Harper College News Bureau

August 15, 2017

August 15, 2017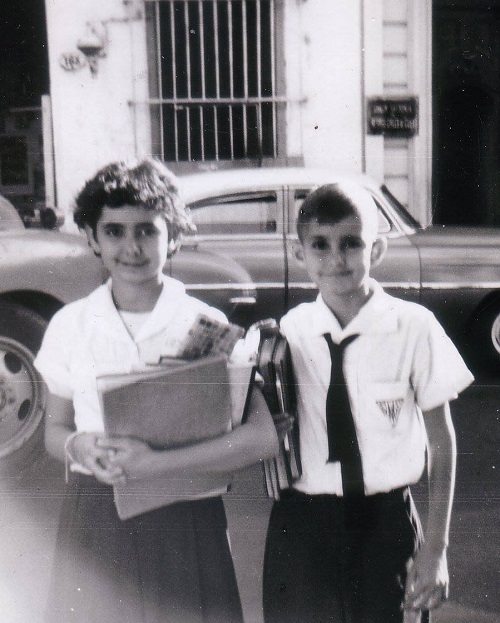 It's often said that immigrants are woven into the fabric of America. That's certainly true of the Basch family, who left Cuba's new communist regime in 1960 to plant roots in Chicago's Northwest suburbs.
Embodying certain values – hard work and contributing to one's community, to name a couple – have been integral to their journey. So has a belief that education opens doors to opportunity.
For many of the Basches, that gateway has been Harper College. Throughout the College's 50-year history, several in the family chose Harper to begin their path toward advanced degrees and rewarding careers.
"Harper College has always been there for us," said Arlington Heights resident Clara Basch Stone, Class of 1970. "It's really been the stepping stone to our success."
Clara was nine years old and brother Ricardo was 10 when their family left Havana for New York City. Their father, Gerardo, worked for a U.S. company and secured a sponsor who drove them to Chicago and housed them for a month.
Since the Basches had German ties, they chose to make Mount Prospect – a village with plenty of German influences – home. The family bought and operated a convenience store on Main Street that flourished for several years.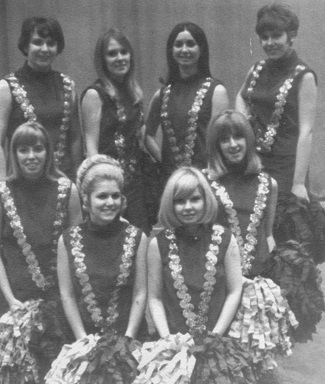 Although Clara and Ricardo had attended a bilingual school in Cuba, the transition was a challenge.
"We were very behind with our English and misunderstood a lot of basic instructions," Clara said. "It took us a while."
Clara decided to attend Harper in fall 1968 after graduating from Prospect High School. Tuition was a fraction of what a four-year institution cost, an important factor considering her father was ill and the family business was struggling to keep up with increased competition.
Harper had opened the previous year, and classes still took place at Elk Grove High School while the Palatine campus' original six buildings were under construction.
Nearly five decades later, Clara looks back fondly at her teachers, her time on the Harper Pompon Corps and the friends who carpooled with her to class.
"It felt like going to a community college really meant you participated in your community," Clara said. "A journalism class included a tour of a newspaper, art class visited the Art Institute, theater class took a trip to the Lyric Opera. Part of my class on exceptional children had us volunteering at a local organization. I picked Little City, and I've supported them ever since."
Clara went on to transfer to Eastern Illinois University and become a bilingual teacher in Wheeling Community Consolidated School District 21. She earned a master's degree in special education and worked at the Midwest Multifunctional Resource Center in Des Plaines teaching adults before wrapping up her career at the Illinois State Board of Education.
While her brother excelled at sports, Ricardo Basch averaged C's and D's while attending Forest View, Wheeling and eventually Prospect High School. Figuring he'd get drafted upon graduating in 1967 –Harper opened its doors later that year – he joined the Navy and served four years during the Vietnam War, much of it as a jet mechanic on the USS Kitty Hawk supporting operations in Southeast Asia.
When Ricardo returned to civilian life in 1971, he followed Clara's footsteps and came to Harper for two years. His newfound discipline aided in his success, and he transferred to the University of Illinois at Urbana-Champaign where he graduated with honors. He went on to earn a Master's of Business Administration degree from the University of Chicago and to work as a financial analyst for large companies such as Kraft and CNA Financial Corp.
Before he died in 2016, Ricardo was an active volunteer with WFMT public radio, the Audubon Society and numerous other groups.
He left money to 10 organizations including $25,000 to Harper College.
"After Ricardo left the service, he didn't know what he wanted to do," Clara said. "Harper was there for him."
The Basches' connections to Harper don't end there. Clara and Ricardo's younger sister, Margaret, also attended Harper and is now a practicing attorney. While in her early 70s, their mother, Sarah E. "Emma" Basch, took a German class at Harper. Margaret's daughter, Emma, graduated from Harper this past year with an Associate of Arts degree – at just 14 years old. And Margaret's husband attended Harper as an adult student to help further his career.
"No matter what point we've been at in our lives, Harper has been the place that helped get us pointed in the right direction," Clara said.
With Harper serving more than 35,000 students annually, it's not difficult to find families such as the Basches with deep, long-standing ties to the College.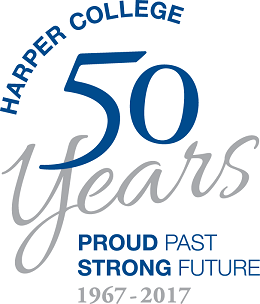 During this 50th anniversary year, Harper will honor its proud past, affirm its present mission and impact, and aspire to an even stronger future. The community, whose unwavering support has helped Harper emerge as a leader in community colleges across the country, is invited to join in the celebration:
Don't forget to wish Harper College a Happy 50th Birthday on September 13; Harper held its first classes that day in 1967.
How did open farmland and horse stables in Palatine give rise to a vast brick-and-glass complex serving some 35,000 students annually? Retired Harper Professor Trygve Thoreson captures Harper's proud past in "Harper College: The First 50 Years." An e-edition can be downloaded for free or pick up a hard copy (suggested donation is $20).
A 50th Anniversary Gala will take place September 16 at Priester Aviation at Chicago Executive Airport in Wheeling. Due to overwhelming sponsor support, Harper increased its fundraising goal to $1 million for the Promise Scholarship Program, which offers every eligible public high school student in Districts 211, 214 and 220 an opportunity to earn up to two years of tuition at Harper.
Hundreds of employees will volunteer at schools throughout Harper's 11 area school districts for the Doing More Together initiative during the week of October 23-29.
Community Day on April 14, 2018, will be an opportunity to experience, learn, reconnect and realize all that Harper has to offer through a series of on-campus events. They include the College and Career Expo, Inspire U Experience Expo, Alumni Reunion, Alumni Art Exhibit and a performance by Harper Ensemble Theatre Company alumni.
To learn more about Harper's 50th anniversary celebration and how the College helped shape the region, visit harpercollege.edu/50.