Harper, DePaul partner to offer bachelor's degrees at University Center
Harper, DePaul partner to offer bachelor's degrees at University Center

Harper College News Bureau

August 21, 2017

August 21, 2017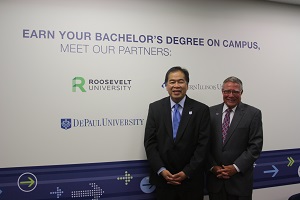 A new partnership provides Harper College students with an opportunity to earn a bachelor's degree from DePaul University on the community college's campus in Palatine.
Beginning this fall semester, DePaul will begin admitting students in three degree programs: a Bachelor of Arts in Communications and Media; a Bachelor of Arts in Professional Studies, Business Administration major; and a Bachelor of Science in Information Technology.
The programs will be offered at Harper College's University Center starting January 2018.
"A growing number of students are working to manage college costs while balancing jobs and family commitments," said Mark Mrozinski, assistant vice president of Workforce and Community Education at Harper. "Having a strong strategic partner in DePaul University gives students a direct pathway to a high-quality degree, in a more convenient and affordable way."
The recently signed agreement is a 2+2 pathway, meaning students will complete about 60 semester credit hours of Harper courses (the associate degree) and the equivalent number of quarter hours of DePaul courses.
The 2+2 pathway makes earning a university degree more accessible. Under the agreement, students complete half of the degree at Harper's much lower tuition rate and the other half of the bachelor's degree at a discounted rate from DePaul, yielding an economical bachelor's degree from a private university. Additional fields of study are under consideration.
Students also will have access to DePaul's admissions, registration and academic advising staff from Harper's campus.
DePaul University is a natural partner for Harper's University Center, due to both the number of students who transfer annually to DePaul and the historically strong academic performance by Harper's transfer students.
"Harper students have always been among our top transfer students and this new opportunity builds on the strengths of both Harper and DePaul to offer students easier access to a bachelor's degree," said David Kalsbeek, senior vice president for the Division of Enrollment Management and Marketing at DePaul.
The University Center at Harper College also includes bachelor's degree programs in general studies and nursing.
For more information, visit harpercollege.edu or go.depaul.edu/HarperUC. Contact the University Center office (Building D, Room D264) at 847.925.6315 or universitycenter@harpercollege.edu.
Photo: DePaul University President Dr. Gabriel Esteban, left, and Harper College President Dr. Ken Ender in the University Center at Harper College.