Preckwinkle hears from Harper student on enriching police-civilian interaction
Preckwinkle hears from Harper student on enriching police-civilian interaction

Harper College News Bureau

October 12, 2017

October 12, 2017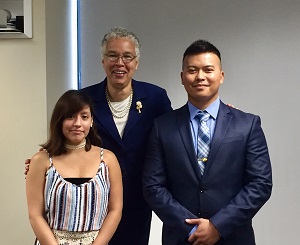 Harper College student Ilce Perez says she doesn't want communities to fear police officers. Instead, people should have the confidence to help by sharing what's going on.
How to improve those relationships between citizens and law enforcement was the subject of her first-place submission in the Illinois Academy of Criminology's Transform the Criminal Justice System essay contest for community college students.
Perez, a criminal justice student, had an opportunity to present her ideas to Cook County Board President Toni Preckwinkle during a recent ceremony at the Cook County Administration Building. She also received a $500 prize for her work.
One of Perez's ideas includes increasing foot patrols so officers have more interaction with the communities they're protecting and better understand their cultural backgrounds. Thoughtful communication that considers body language, facial expressions and tone is important, she said.
Perez's essay also calls for police departments to encourage citizens to file complaints so officers can learn and improve, and for officers to attend more friendly community and school events.
"I wanted to write about the relationships of officers and citizens because officers aren't aware of how they are treating their community and because often times officers abuse their power," said Perez, who was accompanied by Associate Professor Wayne Johnson to the ceremony. "Often times these negative encounters cause tensions and I feel that if the relationship grows stronger, then the community will see that officers are taking that extra step."
Perez told Preckwinkle and the audience that she wants to become a narcotics detective so she can facilitate meaningful discussions in schools in hopes of preventing young teens from ever using drugs.
Caption: Ilce Perez, left, stands with Cook County Board President Toni Preckwinkle and second-place contest winner Jan Jamarolin.