Harper College Print Expo shows students the future of graphic arts
Harper College Print Expo shows students the future of graphic arts

Harper College News Bureau

December 1, 2017

December 1, 2017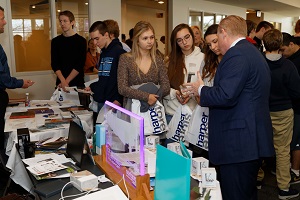 The graphic arts program at Harper College recently hosted a Print Expo introducing area high school students to career opportunities in the field.
About 120 high school students visited with a variety of print professionals including suppliers, manufacturers, printing and finishing companies, professional organizations and four-year colleges and universities.
"This event was created out of a passion to educate interested students in graphic arts to make them aware of the complete GRA industry – especially for print graphics," said Associate Professor Patricia Bruner, coordinator of Harper's graphic arts technology program. Print graphics is one of the largest industries in the world – just look at the packaging in the grocery store – and most students don't understand the vast opportunities. Our program offers real world, foundational skills to exceed in this profession."
Attendees also heard from graduates of Harper's robust graphic arts program who are now working in the industry, as well as instructors who discussed career information and their own real-world experiences.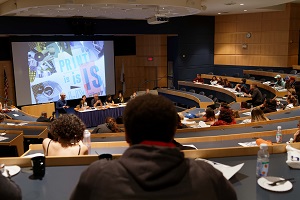 Current students played a key role in running the Print Expo, while Harper's Graphic Arts Design Club spearheaded all promotional materials and designed t-shirts and giveaway bags for the exhibitors and raffle.
One educational path current and prospective students may soon consider is Harper's upcoming graphic arts print production registered apprenticeship program, which launches in fall 2018. This highly innovative apprenticeship will combine job-related credit courses with structured on-the-job learning experiences. Employers pay apprentices a salary and cover tuition costs throughout the program.
Many of the Print Expo exhibitors expressed interest in partnering with Harper as employers for the new graphic arts print production apprenticeship, citing the program as an innovative employee training model and sound strategy to find skilled workers.