News Bureau: Harper, Northwest Community Healthcare celebrate longtime partnership
Harper, Northwest Community Healthcare celebrate longtime partnership

Harper College News Bureau

December 4, 2017

December 4, 2017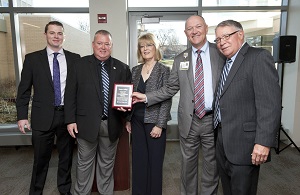 When Harper College opened its doors 50 years ago, it created a steady pipeline of graduates – nurses in particular – who have gone on to provide high-quality, community-focused care at Northwest Community Healthcare.
Harper alumni working as allied health professionals, administrators and support personnel can be found throughout all facets of the Northwest Community Healthcare (NCH) system of care, which in addition to the Arlington Heights hospital includes multiple immediate care centers and physician offices at more than 20 Northwest suburban locations.
The Harper College Educational Foundation recently recognized about 50 of those alumni during a reception at NCH through its Stand Up and Be Counted program, an initiative that celebrates area employers that hire Harper alumni.
"As I've been walking around introducing myself, I realize not only do we have the health services staff, but so many folks who help make this institution work so well," said Harper College President Dr. Ken Ender. "Just like at Harper, there are many people behind the scenes without whom we could not operate nearly as effectively."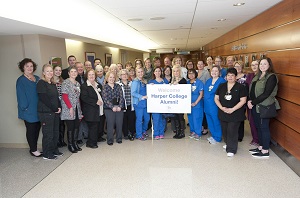 One such alumnus is Laurie Brents, who attended Harper about 20 years ago before earning a scholarship to National Louis University. The IT professional builds the NCH computer system processes for patient reimbursement.
"Harper was my catapult," Brents said. "It was a wonderful training ground for me and made my bachelor's degree much more accessible. I've been on a path of lifelong learning and credentialing ever since."
Many of the alumni who attended the reception hail from Harper's renowned nursing program, which boasts an estimated 4,500 nursing graduates since 1967. Among them was Melissa Grove, who graduated in December 2014 and was employed at NCH by the following March. She's a registered nurse in the neuro unit.
"I definitely feel Harper College does a good job of preparing us," Grove said. "My Harper colleagues are clearly respected by the hospital."
NCH President and CEO Stephen Scogna noted the partnership will only deepen when the organization opens a new 10,000-square-foot health clinic in fall 2018 on Harper's Palatine campus. Building M, to be known as the Health and Recreation Center, will promote a holistic culture of wellness through an innovative public-private partnership with NCH and Palatine Park District.
"These (NCH and Harper) are two organizations really built around community, and for the purpose of the community," Scogna said. "We're incredibly excited about this opportunity."
Diane Hill echoed that enthusiasm about the new health clinic. As both a Harper College trustee and chair of Northwest Community Healthcare's Board of Directors, she has a unique perspective on the longstanding relationship between the two institutions.
"Harper is celebrating its 50th anniversary this year, and Northwest Community will turn 60 in 2019," she said. "These are two pillars of the community with a tradition of excellence, and I'm very proud to see an already strong relationship strengthening for the benefit of so many people."
See also: NCH at Harper outpatient care center