Dean tapped for fellowship for aspiring presidents
Dean tapped for fellowship for aspiring presidents

Harper College News Bureau

April 29, 2017

April 29, 2017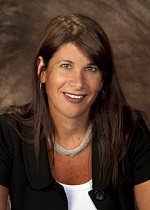 The Aspen Institute, a Washington, D.C.-based educational and policy studies organization, announced Dr. Jennifer Berne, Harper College Dean of Liberal Arts, has been tapped for its Aspen Presidential Fellowship for Community College Excellence.
The highly selective program aims to expand the talent pipeline amid a looming shortage of community college presidents and the critical need to improve student success.
"The opportunity to spend time and study with people who have dedicated their lives to making community colleges better is truly an honor," Berne said.
Community colleges enroll more than 6 million degree-seeking students including rapidly growing numbers of minority, low-income and first-generation students. Yet they are experiencing a staggering rate of turnover: 365 presidents departed their community colleges over the past year, according to the American Association of Community Colleges.
Beginning in July, Berne and the select group of 40 Aspen Presidential Fellows will embark on a yearlong fellowship delivered in collaboration with the Stanford Educational Leadership Initiative and top community college leaders. The program reflects a new vision for leadership that focuses on delivering strong student outcomes. Dr. Mark Mrozinski, Harper College's Dean of Continuing Education and Business Outreach, currently is in Aspen's inaugural class of fellows.
Berne's work at Harper includes academic leadership in the liberal arts, English as a Second Language, developmental literacy and adult basic education. She also works more broadly in the areas of curriculum, assessment and digital learning. In addition to her duties as dean, Berne teaches English 101 at Harper to actively participate in the classroom.
Harper College President Dr. Ken Ender said he has no doubt Berne would achieve and thrive in a college presidency.
"She is smart, savvy and passionate in her beliefs, and influential in her words and deeds," Ender said.
Amid the sea of change of leadership and increasing pressures to dramatically improve student outcomes with fewer resources, community college presidents are being forced to rethink how they lead and how their colleges do business.
"These extraordinary fellows have demonstrated the drive to improve student outcomes and equity and the capacity to lead the college-wide reforms needed to ensure that all students succeed," said Josh Wyner, Executive Director of the Aspen Institute's College Excellence Program. "There's an urgent need to improve student outcomes to benefit not only students, but also families, communities, and our nation's economy."
Media contact:Kim Pohl, Media Relations Manager, 847.925.6159