New student trustee "grateful for the opportunity"
New student trustee "grateful for the opportunity"

Harper College News Bureau

April 26, 2017

April 26, 2017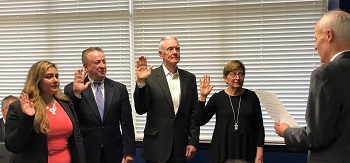 Niki Safakas admits she didn't particularly embrace much of what Harper College has to offer during her first few weeks as a student. She'd drive to campus, go to class and drive back home.
Then she stumbled upon a flyer for student government.
"I wasn't really feeling engaged, so I decided to go to a meeting on a whim," Safakas said. "I quickly saw the potential to really make a difference, and that my voice really mattered."
The 19-year-old Schaumburg High School graduate and first-generation college student has since been elected by the student body to serve a one-year term as Harper's new Student Trustee. Safakas, who has an advisory vote, was sworn into her new position at the April board meeting.
Trustees Herb Johnson, Walt Mundt and Pat Stack were also sworn in.
During her first year at Harper, Safakas has taken on a series of leadership roles. She has served as a student voice on various Harper shared governance committees and helped plan the Diversity and Inclusion committee's Diversity Symposium.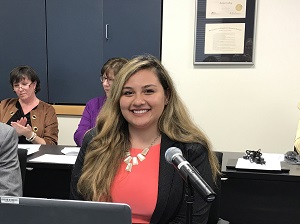 She also led an initiative to gauge how students are utilizing the new Beaubien Family Rotunda in Building D, and works with the Job Placement Resource Center to increase awareness among students about services.
In addition, Safakas plays violin in the Harper Symphony Orchestra, is an active member of the Student Activities Board and helps with Harper's campus tour program for students in fourth through eighth grades.
Safakas, who was recently inducted into the Phi Theta Kappa honors society, studies chemistry and hopes to transfer to her dream school, Loyola University, in fall 2018. She's also encouraging her two younger sisters to follow her in footsteps to Harper.
"I realize that what I do may have a lasting impact on Harper students, so I want to be thoughtful in my approach as Student Trustee," Safakas said. "I'm just very grateful for the opportunity."
Media contact:Kim Pohl, Media Relations Manager, 847.925.6159