DePaul, NIU and Roosevelt help make bachelor's degrees on Harper College campus possible
DePaul, NIU and Roosevelt help make bachelor's degrees on Harper College campus possible

Harper College News Bureau

January 11, 2018

January 11, 2018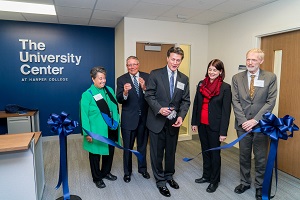 Harper College and three strategic partners are working to make earning a bachelor's degree even more accessible.
DePaul University, Northern Illinois University and Roosevelt University came to campus this week to dedicate the new University Center at Harper College, which provides students with a unique opportunity to earn a bachelor's degree from a four-year university – on Harper's campus and at a lower price point.
"This partnership absolutely breaks down some barriers: time, money, accessibility," Harper College Board Chair Greg Dowell said. "And we are thrilled to be part of it."
Students typically will complete 60 credit hours (the associate degree) at Harper's lower tuition rate and the second half of the bachelor's degree with financial incentives from DePaul, NIU or Roosevelt, yielding a more economical bachelor's degree on Harper's campus.
Students also will have access to the partner universities' admissions, registration and academic advising staff from Harper's campus.
Programs launching in upcoming months include:
DePaul: Communication and Media; Information Technology; Business Administration
NIU: Computer Science; Marketing; Psychology
Roosevelt: Educational Studies – Early Care and Education; Criminal Justice
Additional bachelor's degree programs are also under consideration.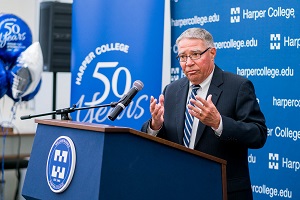 "The collaborations of the institutions in the room today will increase the percentage of Harper students who earn a bachelor's degree after expressing that intention, and that is great news for the students and their families, but also the region and the state," NIU Acting President Lisa Freeman said.
DePaul Provost Marten denBoer pointed to the partnership already in place with Harper, which he said has a long history of sending academically well-prepared transfer students. About five years ago, the two schools launched a guaranteed admission program for qualified Harper students.
Roosevelt Provost Lois Becker also cited the psychological benefit the University Center will provide by eliminating the concern or hesitation Harper students may feel over leaving the comfortable and convenient environment they've come to know.
The University Center is yet another piece in a larger push Harper is making toward increasing access to postsecondary education in the Northwest suburbs.
In addition to the University Center partnerships, Harper College President Dr. Ken Ender pointed to the College's Power of 15 initiative and Promise Scholarship Program. If incoming students take advantage of both, they'd begin at Harper with a semester of college credit under their belt and benefit from up to two years of free tuition.
"Access is related not just to cost and geography, but to (college) readiness, and we think that's what all these programs provide," Ender said.
Photo captions:
Top: (Left to right) Roosevelt University Provost Lois Becker, Harper College President Ken Ender, Harper Board Chair Greg Dowell, NIU Acting President Lisa Freeman and DePaul Provost Marten denBoer help cut the ceremonial ribbon to the new University Center.
Bottom: Dr. Ender provides remarks at the ribbon cutting ceremony for the new University Center at Harper College.