Brother, sister duo simultaneously earn college degree, work experience and income through apprenticeship
Brother, sister duo simultaneously earn college degree, work experience and income through apprenticeship

Harper College News Bureau

April 3, 2018

April 3, 2018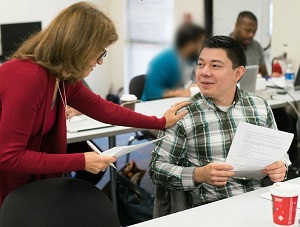 Thanks to innovative apprenticeship programs at Harper College, students are gaining critical job experience while continuing their education. Registered apprenticeships are a workforce development strategy that has paid dividends for employers and started many apprentices in their high-earning and high-demand career.
The Registered Apprenticeship program, which began in Jan. 2015 after a $2.5 million federal grant was awarded to Harper by the Department of Labor, provides related college instruction and on-site job training to students in high-demand fields. Harper has both traditional advanced manufacturing apprenticeships as well as non-traditional "white-collar" apprenticeship programs such as insurance, banking and finance, graphic arts print production, sales and retail management, cyber security, and supply chain management. Apprentices in all Harper Registered Apprenticeship programs are employed earning a salary while attending college paid entirely by the company.
Since the Registered Apprenticeship program's start, more than 31 companies, including Abbott, Mechanical Power Inc. and RCM Industries, Inc., have entered into partnerships with Harper. Large insurance companies such as Aon and Zurich Insurance of North America have also become partners with Harper sending students to the insurance apprenticeship program as well.
"Harper's apprenticeship programs are growing exponentially. We have outreach people that are going out in the community and talking to companies about using apprenticeships to develop their strategic talent pipeline," said Dr. Rebecca Lake, Dean of Workforce and Economic Development. "[Aon] came to me and said what is your insurance apprenticeship program and how do we get started working with you."
Two students, brother and sister duo Rafael and Iris Arroyo, both were hired and became apprentices in the Zurich Registered Apprenticeship program. The company established this apprenticeship partnership with Harper in spring 2016.
Rafael, who is 28 years old and lives in Hoffman Estates, was in the first cohort of the program in January 2016. He discovered the position through the job search website Indeed. He began in the underwriting and support services, learning about insurance and how to evaluate risks. Through his business classes and apprenticeship position, he learned skills he uses now as a Claims Administration Senior Coordinator at Zurich.
"You're learning about what happens in business and how it works, then you're actually working in a corporate office," he said. "[The program] prepares you to be in the work setting."
Rafael's sister, Iris, who is 21 years old and also lives in Hoffman Estates, is part of the program at Zurich as well. Her path began with Rafael mentioning the program to her. At the time, she wanted to change her course of study to something different than in the medical field. Once she began her own research, she understood the apprenticeship program's unique benefits.
"[Rafael] was talking to me about the educational aspect of it and the kind of work that they do, and it sounded pretty interesting to me," Iris said. "So I went ahead and applied knowing I didn't have any experience with insurance. I still found the process pretty easy."
She also began in Zurich's underwriting department and has since moved to claims processing. Even though it is not what she thought she would be doing when she began her initial education path at Harper, she knows how advantageous the insurance registered apprenticeship program is and she enjoys it.
"The Registered Apprenticeship program makes it easier to educate yourself, especially the portion where you get to learn at Harper while you're learning at work," she said.
Both siblings said anyone interested in the Registered Apprenticeship program should apply because of the educational financial assistance and the opportunity to learn, not only at Zurich but at all of the companies partnered with Harper.
"If it wasn't for this program, I probably wouldn't have finished my associate degree," Rafael said. "I have the option to keep going for a bachelor's degree. I feel a little bit closer to that now."
Iris, too, echoes this view.
"I fully enjoy it…[Zurich] is a really good company to work for because there's such a variety of career paths you can take," she said. "You can go in any kind of direction depending on your personality and your strengths and weaknesses."