International student named Harper's 10th Jack Kent Cooke recipient in 8 years
International student named Harper's 10th Jack Kent Cooke recipient in 8 years

Harper College News Bureau

April 19, 2018

April 19, 2018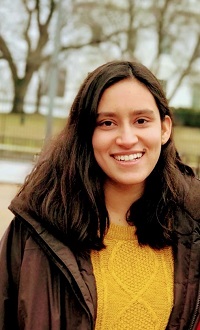 In many ways, Harper College student Mili Tomar is seeing the modern world with fresh eyes.
Growing up in rural India, she wasn't exposed to much high-end technology until moving to Toronto as a teenager. Instead of shying away from her new, intimidating surroundings, Tomar embraced their potential and began working in laboratories.
Her unique perspective and drive to improve the world through research are just part of why Tomar has been awarded the nation's most prestigious transfer scholarship for community college students.
The 20-year-old Schaumburg resident is one of just 47 recipients of the Jack Kent Cooke Foundation's Undergraduate Transfer Scholarship, which will provide Tomar up to $40,000 annually for up to three years to complete her bachelor's degree.
"This has lifted such a financial burden and opened up so many doors," said Tomar, who is now exploring a variety of top-tier and Ivy League schools. "I'm still wrapping my head around it."
Since moving to the Northwest suburbs in 2016 to be with family, Tomar has embraced life at Harper, becoming a tutor, supplemental instructor, Women in Science and Engineering (WISE) officer, Phi Theta Kappa honor society member and Harper College Educational Foundation ambassador.
Tomar is also part of the Engineering Pathways program, which provides qualifying students guaranteed admission to the College of Engineering at the University of Illinois at Urbana-Champaign.
The honors program student has put in considerable time in the research lab as well, spending three years analyzing the impact of cholinesterase inhibitors on neural activity of patients with Alzheimer's.
"Some people have a negative view of community colleges, and I admit I was one of them," Tomar said. "I realize now that as an introspective and fairly quiet person, I would have been overwhelmed by massive lecture halls and teachers who don't know your name. The professors at Harper care. They put in the time and effort to help you succeed. The opportunities are there if you take them."
Her selection continues a remarkable streak for Harper, which now boasts 10 Jack Kent Cooke winners over the past eight years. Recipients have gone on to institutions such as Northwestern, Columbia University and Bryn Mawr.
Harper Professor Alicia Tomasian, who helps advise Jack Kent Cooke applicants, said Harper works to help students like Tomar discover themselves and their full potential.
"Harper is a place where people with unique intellects like Mili are nurtured and can forge their own path," Tomasian said. "We're able to put the time, energy and resources into encouraging them to be independent scholars and thinkers."