Prestigious fellowship for aspiring presidents taps two administrators
Prestigious fellowship for aspiring presidents taps two administrators

Harper College News Bureau

April 26, 2018

April 26, 2018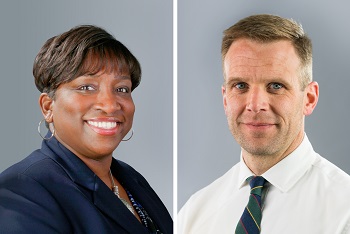 Not one, but two Harper College administrators have been awarded the prestigious Aspen Presidential Fellowship for Community College Excellence, a leadership program aimed at preparing the next generation of community college presidents.
Michelé Smith, Vice President of Workforce Solutions/Associate Provost for Curriculum, and Brian Knetl, Associate Provost, are among 40 Fellows from across the country – and the only recipients from Illinois – selected by the Aspen Institute's College Excellence Program, a Washington, D.C.-based educational and policy studies organization working to advance higher education practices, policies and leadership that significantly improve student outcomes.
"Both Brian and Michelé are exceptionally talented leaders," Harper College President Dr. Ken Ender said. "They will be superb community college presidents."
The Aspen Fellowship responds to a growing need for leaders amid a looming shortage of presidents well-equipped to meet the challenges facing community colleges:
Nationally, nearly 80 percent of sitting presidents plan to retire in the next decade.
Currently, 71 percent of sitting community college presidents are white; 64 percent are male.
The incoming class of Aspen Presidential Fellows is comprised of 65 percent women, 43 percent people of color and represents institutions of varying size and geographical spread.
Smith and Knetl were selected based on their ability to take strategic risks, lead strong teams and cultivate partnerships, and focus on results-oriented improvements in student success and access.
A 16-year veteran of Harper, Smith provides oversight for workforce development efforts including corporate training, the Illinois Small Business Development Center, continuing education and registered apprenticeships. She's also the executive lead for the Harper College Promise Scholarship Program, which provides public high school students an opportunity to earn two years of free tuition. She previously served as Harper's Special Assistant to the President for Diversity and Inclusion, Dean of Business and Social Science, Child Learning Center coordinator and early childhood education faculty. Smith recently co-authored the book "Inclusive Directions: The Role of the Chief Diversity Officer in Community College Leadership" and is currently completing a Ph.D. in educational psychology from Northern Illinois University.
Smith said she's looking forward to gaining a better understanding of what it means to be a transformational leader.
"I hope to connect with rising leaders from across the country and have an opportunity to receive mentoring from some of the best presidents leading community colleges today," she said.
Knetl provides leadership for several student success programs at Harper as well as the College's Academy for Teaching Excellence, national Title III grant and is co-leader of the Achieving the Dream initiative. He previously served as Dean of Liberal Arts and founding Associate Dean of the Center for Adjunct Faculty Engagement at Harper. Before his venture into administration, he was a full-time faculty member in the Theatre Arts Department at Saint Mary's University in Winona, Minn. He is currently completing his Ed.D. at Loyola University Chicago.
Knetl said he is honored by his selection and looking forward to engaging with a community of professionals from across the country dedicated to serving community colleges.
"I hope the experience will challenge me to think about my work differently, and that by the end of the fellowship I will arrive at some new or refined ideas about the type of leader I am and want to become," he said.
In addition to being mentored by successful community college leaders, Fellows will learn about ways to use data to make students more successful and how to create strong external partnerships with K-12 schools, four-year colleges and employers.