Harper dedicates David K. Hill Family Library
Harper dedicates David K. Hill Family Library

Harper College News Bureau

May 3, 2018

May 3, 2018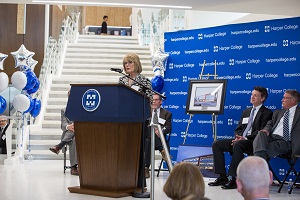 Throughout his life and certainly during his time as a Harper College trustee, David K. Hill exuded a passion for learning, for collaborating, and for engaging with the community.
Together with his wife, Diane, the Hills have been transformational leaders to the College, donating more than $1 million in support of the Kimball Hill Family Deaf Institute, individual scholarships, capital fundraising campaigns and the Promise Scholarship Program.
It's only fitting, then, that the reimagined building be known as the David K. Hill Family Library. The College on May 3 held a rededication and naming ceremony to recognize the Hills' significant contributions and celebrate the campus' bustling new hub.
"Dave was curious about the world and engaged with the community, and he loved to be surrounded by thought-provoking material," Diane Hill said of her late husband. "The new library is a wonderful example of the campus evolving to meet the needs of students today. I know Dave would be very impressed, and I think it will be a marvelous legacy to him and our family."
Following an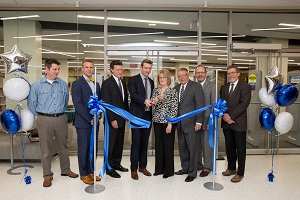 extensive, year-and-a-half-long renovation, the 107,000-square-foot building recently reopened to the delight of students, employees and visitors, who have flocked to the space ever since.
The library infuses technology with welcoming, open space and engaging environments for learning and enrichment. It features a Content Creation Lab, a space for audio and video production, more than 100 computers, portable white boards, a performance/exhibit room, archives room and 15 study rooms, most equipped with a monitor and white board.
The first floor houses the Writing Center, Tutoring Center and Success Services, which make up the Academic Support Center.
Libraries are shifting and becoming spaces that meet needs beyond storing and gathering information, according to Associate Provost Brian Knetl.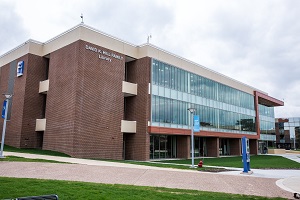 "Libraries such as this one still contain books and periodicals and other print resources," Knetl said. "However, libraries such as this one have evolved into places for people to gather, to connect and to create."
Jeffrey Sronkoski, chairman and principal of Legat Architects, echoed the idea, saying the David K. Hill Family Library reflects an evolution from content consumption to content creation.
Harper College President Dr. Ken Ender joked that the new space is in no way recognizable from its previous design, which was one of the College's original buildings to open in 1969.
"Do you currently know where you are?" he asked.
Diane Hill, a retired educator and current trustee, said she is honored her family's name will grace such an important building to Harper and the larger community given their years of service. David Hill served as trustee from 2004 until his death in 2008 and was founder, chairman and CEO of Kimball Hill Homes. Diane Hill completed his term and then was elected to 6-year terms in 2009 and 2015.
"Harper is a pillar of excellence," she said. "It's a convener for the community. It's an educator, it's a thought leader, it's a servant for the needs of the community. To play a part in its mission is extremely gratifying."