Harper leader among Chicago's Notable Women in Education
Harper leader among Chicago's Notable Women in Education

Harper College News Bureau

May 31, 2018

May 31, 2018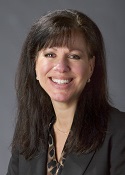 One of Harper College's leaders is among Chicago's Notable Women in Education for 2018.
Dr. Maria Coons, Chief of Staff and Vice President of Institutional Planning and Strategic Alliances, is among 17 women representing an impressive cross-section of Chicago-area colleges and universities recognized for the Crain's honor.
Coons has served in many capacities during her 30-year tenure at Harper. In her current role, she leads planning, accountability and strategic partnerships. This includes the development of a community-based strategic planning process, overseeing institutional research and outcomes assessment initiatives, as well as developing and delivering programming with strategic partners in high-growth areas.
To support this work, she has successfully procured more than $25 million in workforce grants.
Coons previously served as a full-time faculty member and department chair for financial services and marketing programs. She also developed and managed the Fast Track program, which provides cohort-based learning opportunities for adults. Prior to her career in education, Coons was Assistant Vice President of Check Operations at the Federal Reserve Bank of Chicago.
Coons' many civic activities include serving as a past president of the Barrington Breakfast Rotary Club, a member of the Barrington Area Chamber of Commerce and the Chicago Metra Citizen's Advisory Board. She's on the board of the National Coalition of Advanced Technology Centers and is a Harper ambassador to Jane Addams Elementary School.
"This recognition by Crain's is truly an honor and a tribute to everyone at Harper College who works together to help students achieve their goals," Coons said.