Dr. Ender receives Gary Davis Ethical Leadership Award
Dr. Ender receives Gary Davis Ethical Leadership Award

Harper College News Bureau

June 6, 2018

June 6, 2018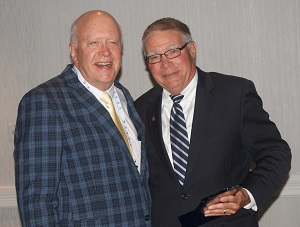 The Illinois Community College Trustees Association has honored Harper College President Kenneth Ender with the Gary Davis Ethical Leadership Award.
The occasional award recognizes individuals who have made an outstanding contribution to the pursuit and support of ethical leadership and decision-making in their fields of work and volunteer service, according to ICCTA Executive Director Michael Monaghan.
Dr. Ender, who has worked to position Harper as a 21st century community college over the past nine years, accepted the award on June 1 at the Annual Community College Convention and Banquet in Springfield.
In supporting his nomination, Harper Board Chair Greg Dowell and Trustee Diane Hill called Dr. Ender a respected local, regional and national thought-leader on the future of community colleges. They pointed to his compelling student success agenda and laser focus on retention and completion, leading to record graduation rates under his leadership.
Numerous other accomplishments were recognized including:
The number of students coming to Harper college ready has dramatically increased through the alignment of Harper's curriculum with area high schools.
New alliances with businesses aim to fill the shortage of skilled workers in key industries.
Harper has implemented new accountability and transparency standards.
Administrators are assigned to schools within Harper's district where a majority of students are low-income to inspire an early interest in higher education.
Ender spearheaded the launch of the Promise Scholarship Program, which offers area high school students an opportunity to earn up to two years of free tuition at Harper. More than $10 million has been raised to support the program.
The Obama administration appointed Dr. Ender to the Advanced Manufacturing Partnership (AMP 2.0) Steering Committee to develop and promote promising careers in the manufacturing sector.
Ender has served in other leadership capacities as a founding member of the Community College Workforce Consortium focused on workforce development partnerships, a Trustee for the College Board and a Director for the American Association of Community Colleges.
Gary Davis Ethical Leadership Award nominees must foster trustworthiness, respect, responsibility, fairness, compassion and citizenship in their professional activities. Dr. Gary Davis led the ICCTA as its executive director from 1986 to 2004.
"I fully embrace and honor the values connected to this award," said Dr. Ender, describing the recognition as "a meaningful way to recognize more than 20 years of service as a community college president."
Caption: Gary Davis, left, and Dr. Ender