High School Equivalency program "life-changing" for Distinguished Scholar
High School Equivalency program "life-changing" for Distinguished Scholar

Harper College News Bureau

June 25, 2018

June 25, 2018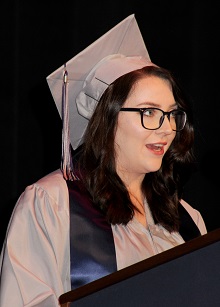 Michaela Farwick's path to earning her High School Equivalency diploma through Harper College was not a straight line.
Her brother's illness led her parents to home-school Farwick beginning in the second grade. But they worked full-time and the family moved a lot. As a result, she seldom sat for lessons. Farwick said she "officially gave up" around her freshman year.
"I wasn't at the level of a high schooler," said Farwick, a 22-year-old Palatine resident. "I was far behind."
Today, Farwick has caught up in a big way. Not only did she pass all subject tests to earn her diploma, she recently addressed her peers at the High School Equivalency graduation as a winner of the Distinguished Scholar Award. The scholarship covers the cost of 60 credit hours for a high-achieving student continuing on to credit classes at Harper.
Farwick, who's now working toward an associate degree, said she felt honored and nervous to speak. Though she's not a fan of giving speeches, Farwick wanted to encourage the 70-plus graduates and inspire them to move forward with school.
Farwick reflected on the courage it took to finally enroll in Harper's free adult education classes.

"I had really bad anxiety because I hadn't gone to school at all, so I had no idea what it would be like," she said. "I couldn't even drive, honestly. I was just terrified to go anywhere."

With the support of her husband Patrick, she ultimately signed up.

"I looked up Harper's information and drove myself there. I went to all of my classes and tests alone," she said, stressing what a milestone it was at the time. "I really, really enjoy school now, and I'm really happy I get to be a part of it. I think everyone deserves an education."

Farwick has ambitious plans. After she graduates next spring, she wants to transfer to a four-year school in Chicago and major in psychology. She aims to eventually get a master's degree in speech pathology and become a sign language interpreter.
She has high praise for advisor Devin Chambers and the Adult Education Department instructors who tapped her potential including math professor Maria Knuth, who thinks Farwick can overcome any obstacle.
"She's very driven," Knuth said of Farwick. "She always asked questions, came to tutoring, did whatever needed to be done to pass this test and start her education."
Farwick doesn't hesitate to recommend Harper to anyone considering an HSE diploma, describing the teachers as kind and the department as welcoming. She also credits fellow students for contributing to the inclusive environment.
"It's such a wide variety of people," Farwick said. "You get 16-year-olds, people in their 60s, all different cultures. And it's really a supportive group because everyone kind of feels like they're in the same boat. They're trying to get a foot on the ground and move forward.
"I don't know where I would be right now if I hadn't started taking the HSE classes. It honestly was life-changing for me."