Once skeptical, student embraces all Harper has to offer
Once skeptical, student embraces all Harper has to offer

Harper College News Bureau

August 22, 2018

August 22, 2018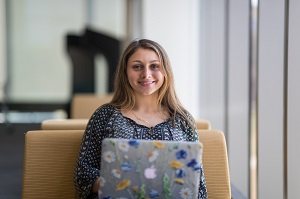 Arianna Mormino admits she was skeptical about coming to Harper College.
After all, college in her mind meant going away somewhere … leaving home, living in a dorm and having all the fun that comes with a traditional college experience. Community college, she and her friends thought, carried a certain stigma.
But Mormino's parents urged her to think practically. Going to Harper would mean graduating debt-free. And considering her dream of becoming a veterinarian – along with the years of schooling that come with it – Harper emerged as the obvious choice.
"I have a lot of schooling ahead of me, and I really have to save up money," Mormino, from Cary, said. "I eventually realized the value in coming to Harper and knew I had to be mature making my decision."
Any hesitation Mormino felt toward Harper disappeared shortly after her arrival in fall 2017. She met interesting people, connected with her professors, joined the honors program and was inducted into the Phi Theta Kappa honors society. The Harper College Educational Foundation's HOPE Giving Circle also selected Mormino for one of three $10,000 scholarships and ongoing mentoring from the philanthropic women's group.
During the spring semester, Mormino traveled to Nicaragua with her honors English class. In addition to reading and writing about Central America's largest country, she took part in a hands-on service learning project by working in a rural elementary school.
"The experience was eye-opening," Mormino said. "I was able to connect with my Hispanic roots, and I got to see the world from a different perspective."
Mormino describes the trip as life-changing, and marvels that first-year students have those types of opportunities at their fingertips. The Office of International Education at Harper works to develop collaborative programs and curriculum that enhance knowledge of global dynamics, cultural diversity and world issues.
Harper students can earn a Distinction in International Perspectives graduation honor by completing certain interdisciplinary coursework and a capstone project.
Closer to home, Mormino is doing everything she can to prepare for a career in veterinary medicine. She has been shadowing an area veterinarian for several years, and has been exposed to everything from surgeries to the business side of the facility. With four dogs, two cats and a pet lizard at home, the field feels like a natural fit.
Mormino is thankful she made the choice to come to Harper, saying she's making the most of her education and being the best student she can be.
"I knew within a couple weeks that I had made the right decision," she said. "I hope high school students who hold that same stigma I used to will open their eyes to the possibilities of what college could be at Harper."