Mother and daughter thriving together at Harper
Mother and daughter thriving together at Harper

Harper College News Bureau

September 5, 2018

September 5, 2018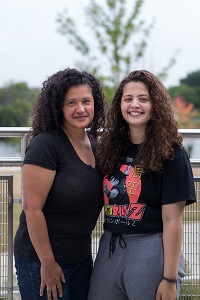 Whenever people ask Brianna Vasquez if it's weird to go to college with her mother, she doesn't hesitate to respond.
"It hasn't been weird in the least," Brianna said. "I love coming to campus with my mom and eating lunch together. But most of all, I love getting to see first-hand the good that Harper does for her."
Brianna, a Schaumburg High School graduate who recently began her second year at Harper College, beams when she reflects on the progress her mother, Lilly Vasquez, has made.
For years, Lilly suffered emotional, physical and psychological abuse in her marriage. She had three kids, no degree and no confidence she could ever leave.
But she managed to take the occasional class in secret, and ultimately, WINGS and the Rita and John Canning Women's Program at Harper provided Lilly with the support she needed to gain her independence. She has slowly rebuilt her sense of self-worth and embraced her studies. Now, she's completing prerequisite courses and applying to the dental hygiene program.
Watching her mother grow each day and work toward a dream has inspired Brianna's own career ambitions. She plans to transfer to a four-year school next year and study psychology, hopeful she can help children impacted by the kinds of challenges she and her siblings faced.
"Going through a situation like ours has really made me want to make a difference in the world," Brianna said.
Brianna has excelled at Harper, joining the honors program and the Phi Theta Kappa honors society. She also works as a student aide in the Early Childhood Laboratory School.
Brianna said she appreciates the support and encouragement she and her mom have received from Educational Foundation scholarships to Academic Advisor Alejandro Mendoza "going above and beyond to guide us." Most of all, Brianna said, she's grateful for the change she sees in her mother.
"My mom has given up so much for her family and I've seen her at some of her lowest points," Brianna said. "I've wanted nothing more than to just protect her. But I see now that she's more than capable of standing on her own two feet. She's going to achieve everything she's been working so hard for."