Students Embracing Chance to Earn Four-Year Degree on Harper's Campus
Students embracing chance to earn four-year degree on Harper's Campus

Harper College News Bureau

October 1, 2018

October 1, 2018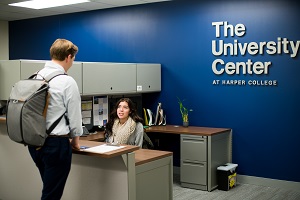 Count Patrycja Pajor among the nearly 60 students already embracing an opportunity to earn a four-year degree without leaving Harper College's campus.
The Harper graduate is now a DePaul University student working toward a Bachelor of Arts in Professional Studies with a major in Business Administration through the new University Center at Harper.
"The University Center for me is a lot easier than the alternatives," Pajor, of Elk Grove Village, said. "I'm not having to commute downtown, and I can work fulltime (a job in accounts receivable) while I'm in school."
Together with strategic partners DePaul, Northern Illinois and Roosevelt universities, Harper is working to remove barriers that might stand in the way of someone continuing their education.
Here's how it works: Students typically complete 60 credit hours (the associate degree) at Harper's lower tuition rate and the second half of the bachelor's degree with financial incentives from DePaul, NIU or Roosevelt, yielding a more economical bachelor's degree on Harper's campus.
Students also benefit from the partner universities' admissions, registration and academic advising staff. Programs include:
DePaul: Communication and Media; Information Technology; Business Administration
NIU: Computer science; Marketing; Psychology
Roosevelt: Criminal Justice; Early Childhood Education; Elementary Education; and Health Science Administration
Hannah Wiley of Rolling Meadows is also part of the DePaul business administration cohort.
"Harper is 10 minutes away from my house and I know the campus," she said. "It would take me an hour to get to DePaul's campus in the (Chicago) Loop, and I just couldn't do it and keep working my two jobs. This is way more manageable."
Due to limited space, the University Center is tucked away on the second floor of Building D. Future plans call for a new building on campus that would drive economic opportunity in the community. In addition to the University Center partnerships, the facility would serve as a hub for regional economic development by housing the Small Business Development Center, Fast Track program for working adults, customized business training and other entrepreneurial initiatives.
The proposed building is part of a larger community-driven plan for Harper's future. Voters will consider the referendum question – which wouldn't raise taxes – on November 6.