Fulbright Scholar-in-Residence makes his mark on Harper campus
Fulbright Scholar-in-Residence makes his mark on Harper campus

Harper College News Bureau

October 10, 2018

October 10, 2018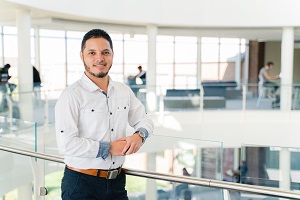 As a professor at the National University of Costa Rica and a tenured elementary and high school teacher for the Costa Rican Ministry of Public Education, Professor Jairo Viales has gained a breadth of experience as an educator.
In August, he began a new role as a Fulbright Scholar-in-Residence at Harper College, sharing his singular perspective with the campus community through lectures, tutoring, curriculum design and more.
Viales said Costa Rica and the United States have a lot to learn from one another, but it didn't take long for him to recognize that Harper already shares a guiding principle with his university back home — both institutions work closely with students to ensure they overcome barriers to success.
In Costa Rica, they call it the "humanistic" approach to education, he said.
"We try to help (students) in every aspect of their lives," he said, referring to everything from scholarships to housing to jobs.
It is one of the vital aspects of Harper's approach to education as well, according to Viales.
"It's a community college, so it takes care of the community — it takes care of people," he said.
He is the sixth Fulbright scholar at Harper College since it began hosting students through the program in 1997.
Professor Richard Johnson, Director of the Office of International Education at Harper, said Viales is providing a wide range of services and workshops in Harper's ESL Linguistics Department while at the same time achieving professional developmental goals of his own.
"He's sharing his expertise, knowledge and experience and being exposed to and learning from his colleagues here at Harper College," Johnson said.
Viales' residency is part of a three-year interdisciplinary cycle of studies that runs through 2020. In the second and third years, Harper will send students to the region of focus, Johnson explained.
Harper is working now to establish a partnership with Viales' home institution, the National University of Costa Rica. The exchange program is important as the workforce becomes increasingly diverse, Johnson said.
"We're preparing them with global perspectives across curricula and exposing them to individuals from various cultures," he said, noting that the program reflects the Harper's commitment to graduating "globally competent students."
"As the world gets smaller, we have to prepare them for dealing with people from around the world in a respectful way," he said.
Viales said his experience at Harper, so far, has run the gamut of subjects — sociology, geography, English and mathematics, to name just a few. Asked how he's dealing with homesickness, the visiting scholar said it has not been an issue: "I feel like I'm at home because of the wonderful, welcoming reception that every single professor and student has given me."