Distinguished Trustee scholarship recipient thriving despite challenges
Distinguished Trustee scholarship recipient thriving despite challenges

Harper College News Bureau

January 17, 2019

January 17, 2019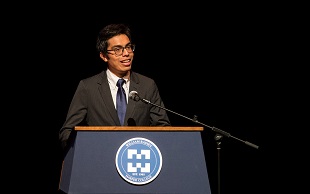 When first-year Harper College student Diego Cruz started exploring college options, his older brother passed along some rather blunt words of wisdom.
"'Diego,' he'd say, 'it's either Harvard or Harper. There's no in between,'" Diego recalls.
There were five of them — soon to be six with a baby brother on the way — living in a trailer home. Pennies matter, and his status as an undocumented immigrant means he's ineligible for federal financial aid.
Going into massive amounts of debt for any school that wasn't Harvard made zero sense, Diego's brother said.
Harper is hardly a consolation prize, however. The College's annual Astronomy Day community event helped fuel his love of science as a child. And after his junior year in high school, the organic chemistry course he took at Harper further opened his eyes to the opportunities that awaited him on campus.
"I, a 16-year-old, had access to nuclear magnetic resonance machines and other equipment that first-year university students wouldn't be allowed near," Diego says. "The trust my teacher had in me and the way that class challenged me made me excited to choose Harper."
Solidifying Diego's decision was his selection for Harper's Distinguished Trustee scholarship, a merit-based scholarship that awards about 40 students up to 60 credit hours of tuition, fees and a book stipend.
Though only a semester in, Diego is embracing his time at Harper. He jumped at the opportunity to conduct undergraduate research in the chemistry department, and through the chemistry club he's sharing some of that passion for science with elementary school students.
He also joined Harper's award-winning speech and debate team. Diego grew up speaking only Spanish, so he sees the organization as a way to become even more articulate communicator.
The campus itself also plays a role in Diego's success. Due to the cramped quarters at home, he spends a lot of time exploring different spots both inside and out. Meditating by the lake has come in handy before an exam, he says, while the light that floods into the Beaubien Family Rotunda in Building D never fails to energize him. Tucking himself away and reading somewhere in the new David K. Hill Family Library also gives him a sense of calm.
While Diego's grit and determination have served him well, life is not without its challenges. He sees his dad, despite a tremendous work ethic, struggle to find reliable work because of his immigration status. He's reliant on the Pace bus system, so his commute to school takes at least 90 minutes. He's also a recipient of the Deferred Action for Childhood Arrivals program, but its uncertain future leads to anxiety about his own residency.
And yet, Diego is confident he'll achieve his dreams. He sees himself studying nanotechnology at Princeton or working at Argonne National Laboratory or even winning the Nobel Prize someday.
"My mom brought us here because she saw more opportunity — not for her — but for us," Diego says. "She wanted a better life for us here. And I feel as though Harper is helping me become a better speaker, writer, teammate, scientist and much more. Harper's setting me up for success."