A head start for Harper's first Promise Scholars
A head start for Harper's first Promise Scholars

Harper College News Bureau

March 14, 2019

March 14, 2019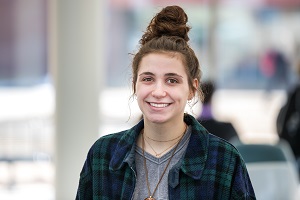 The first cohort of Harper College Promise Scholars won't arrive on campus until fall 2019, but that hasn't stopped a few extremely motivated students from getting a head start.
Jade Dioguardi and Elissa Schimmel are among the Promise Scholarship recipients already at Harper after graduating from high school early.
Both alumnae of Barrington High School, Jade and Elissa met each Promise criteria for attendance, rigor, quality, persistence and community service to earn their first semester of tuition at Harper. They'll earn up to two years total provided they continue meeting similar benchmarks.
"I was pretty motivated to get past high school, to be honest, and the Promise requirements seemed pretty reasonable," Jade, 17, says. "Not having to worry about financial aid these first two years of college is a huge relief."
In addition to English, math, psychology and speech courses, Jade is taking a First Year Seminar to get a better sense of a career path to pursue. The course focuses on developing critical thinking and information literacy skills to make more informed decisions regarding college and career planning. Physical therapy and investigative work are particularly appealing to her.
Jade also enjoys volunteering at the On Angels' Wings pet rescue and resale store in Crystal Lake and works at her dad's pizza parlor.
"After graduating from Harper, my plan is to transfer to a four-year school in Colorado or Oregon, and the money I'm saving now will help tremendously," Jade said.
Elissa is in her second semester at Harper after graduating from Barrington an entire year early. She's carrying quite a full load this spring with accounting, economics, English, math and management courses.
She's also volunteering on campus as a tour guide for elementary school students visiting as part of Harper's Ambassador School program, which aims to spark an early interest in higher education. She plans to pursue business and has her sights on transferring to the University of Tennessee or Ball State University.
"I don't want to put additional financial stress on my parents since they're paying for my brother, too," Elissa, 17, says. "We're all very grateful for this scholarship."
Dr. Ken Ender, President of Harper College, said the Promise Program is something he wanted to start before he ever got in the car to move to the Chicago area. Although his 10-year tenure at Harper ends June 30, he's confident – thanks largely to the outpouring of community support – that Promise will be a game-changer for many years to come.
"A lot of people think that if your parents have the money, they should pay for college," Dr. Ender said. "But it's not just about money. It's about earning your scholarship, developing a strong work ethic and learning the excellence that will be expected of you. We're trying to produce talented, sought-after employees. And when employers see a Promise Scholar coming out of Harper, boy are they going to want that person working for them."