Assistant provost named Aspen Presidential Fellow
Assistant provost named Aspen Presidential Fellow

Harper College News Bureau

April 15, 2019

April 15, 2019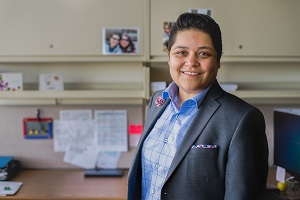 Dr. Claudia Mercado has committed her career in higher education to serving historically marginalized populations, working tirelessly to transform what is to what could be.
In July, Harper College's assistant provost for enrollment services will embark on a 10-month fellowship aimed at preparing the next generation of community college presidents to transform institutions to achieve higher and more equitable levels of student success, both in college and in the labor market.
The Aspen Institute's College Excellence Program recently announced Mercado has been selected to join the 2019-2020 class of Aspen Presidential Fellowship for Community College Excellence.
"Claudia understands the role community colleges need to play in supporting the American dream, especially for the growing population of low-income students and students of color," said Dr. Ken Ender, Harper College president. "She embodies the commitment and skill needed to be a transformational leader."
Delivered in collaboration with the Stanford Educational Leadership Initiative, Mercado and 39 other fellows will work with mentors – current and former community college presidents – who have achieved exceptional outcomes for students throughout their careers. Fellows will also learn from national experts about ways to harness data to assess student success outcomes, strategies for internal change leadership, and how to create strong external partnerships with K-12 schools, four-year colleges and employers.
The Aspen Presidential Fellowship responds to a specific and growing need for a new generation of leaders who are well-equipped to meet the challenges of the future. Nationally, nearly 80% of community college presidents plan to retire in the next decade. While the pathway to replace them has traditionally excluded women and people of color, the incoming class of Aspen Presidential Fellows is 65% female and non-binary and 43% are people of color.
Mercado was selected through a rigorous process that considered her abilities to take strategic risks, lead strong teams and cultivate partnerships, and focus on results-oriented improvements in student success and access.
At Harper, Mercado oversees a variety of areas and initiatives that support enrollment. Her professional experiences have included managing new student growth, retention, completion and student engagement. Mercado also serves as an adjunct faculty at Northeastern Illinois University in Chicago for ENLACE, a higher education administration program focused on increasing the professional pipeline into Hispanic Serving Institutions. She has a doctorate in education from the University of Kansas in Higher Education Administration.
Mercado said her life experiences have helped her understand the various challenges that community college students face and view opportunities to lead transformation from a wide lens.
"I believe challenges present a world of boundless opportunities and that even the largest of challenges can be overcome," she said. "I'm proud to join the next generation of leaders who will guide community colleges to achieve even higher levels of student success."
Mercado is the fifth Harper administrator to become an Aspen Presidential Fellow since the program's launch in 2016. To read more about Mercado and the initiative, visit http://as.pn/1ky.