Harper dedicates pavilion in honor of Enders' service
Harper dedicates pavilion in honor of Enders' service

Harper College News Bureau

April 17, 2019

April 17, 2019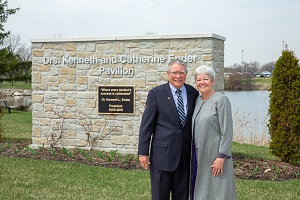 Over the last decade, Harper College President Ken Ender and his wife, Cathy, have championed student success and promoted access and equity through their generous support of the Harper College Promise Scholarship Program.
It's only fitting, then, that the home to Harper's commencement ceremony – the culmination of students finishing what they start – would bear their names for years to come.
Harper on Wednesday dedicated the Drs. Kenneth and Catherine Ender Pavilion in honor of their 10 years of service and generous philanthropic investment in Harper's students. Dr. Ender steps down on June 30.
"Everything I could possibly say goes to (Dr. Ender's) deep commitment to the needs of our students and our community," Board Chair Greg Dowell said to a full amphitheater during a ceremony at the Wojcik Conference Center. "By forming partnerships, by challenging our campus to set and achieve lofty goals, and prioritizing our students' needs, he made Harper a leader among higher education institutions."
Dowell spoke to just some of the accomplishments that have taken place under Dr. Ender's tenure: rising to President Obama's challenge by granting an additional 10,604 degrees and certificates three years ahead of schedule; renovating four buildings and setting the standard for what community partnerships can achieve; maintaining a Aaa bond rating; launching a nationally recognized apprenticeship program; being awarded Achieving the Dream's coveted Leah Meyer Austin Award; and prioritizing diversity and inclusion.
Everything he's worked toward, Dowell said, is rooted in creating a student-centered culture.
Alumni Gabi Valcheva and Jalen Little, who now works at Harper as an admissions specialist, also reflected on the impact Dr. Ender had on them and on all students.
"Dr. Ender, you've taught me a lot about how to set a vision for myself and others, and how to inspire others to make a positive change within themselves," Little said. "You saw where our campus could go, and you dreamed big enough, planned wisely enough, and trusted the people around you enough to get us there."
Trustee Diane Hill highlighted the Enders' commitment to the Promise Program, which launched in 2015 to create a pathway for students to earn two years of Harper tuition by meeting certain criteria aimed at helping them succeed in school and in the workplace.
The Enders' own investment – their commitment of more than $100,000 established the first leadership gift for the Promise campaign – helped support their challenge to the community to raise $20 million to ensure local students could count on Promise in perpetuity.
"It is a meaningful and impactful form of leadership to realize a vision of this scope," Hill said. "But it is far more meaningful for one to make a personal commitment to seeing it succeed, and that's just what Ken and Cathy have done."
Dr. Ender said that he and Dr. Cathy Ender were both first-generation college students from middle-class backgrounds whose parents may not have gone to college themselves, but encouraged them to attend and taught them to save in order to pay for it.
"Everything we are, everything we have is about higher education," said Dr. Ender, who added, "Our lives' work is just about paying it forward."