New student trustee thriving despite violence, extreme poverty
New student trustee thriving despite violence, extreme poverty

Harper College News Bureau

April 24, 2019

April 24, 2019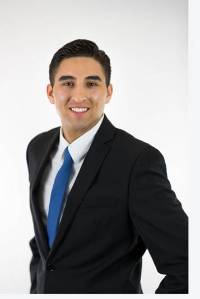 Harper College Student Trustee David Santafe-Zambrano has overcome remarkable odds to get to where he is today.
The Colombian native grew up in urban slums after his family was displaced by his country's Armed Conflict. He faced horrendous violence and living conditions. His fortune changed when, after passing all the criteria, David received a coveted visa to come to the United States three years ago. The transition was difficult, however, with David experiencing a brief bout with homelessness as he worked to find some stability.
"My biggest dream has always been to get educated and break the cycle of continuous poverty and lack of education that my family has known for so long," he said.
David, who was sworn in Wednesday as student trustee, is well on his way to achieving his dream.
The 25-year-old Schaumburg resident today maintains a 4.0 GPA, is in the honors program and was inducted into the Phi Theta Kappa honor society. He participates in Latinos Unidos, the UNICEF club and the International Student club.
David is also working toward a distinction in international perspectives and plans to transfer to a four-year institution after graduating from Harper in May 2020. He aspires to one day work international relations, promoting the cultural exchange between nations.
When David arrived in the U.S., he didn't speak English and struggled to adapt culturally, socially and academically. He took ESL classes at his local community college in central Illinois and quickly made strides, eventually serving as the student government's vice president. But David yearned for a more diverse community that offered richer curriculum and student life opportunities.
He did some research and relocated to the Northwest suburbs so he could attend Harper.
"I chose to come to Harper, and I'm very proud to say that," he said.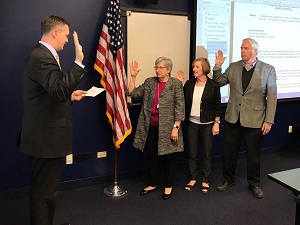 David said he understands the challenges that many community college students face – of being a first-generation college student, of not having financial support, of working multiple jobs to pay for school. He also believes that everyone has the tools they need to succeed; people just need the support to learn how to use them.
"We Harper students are diverse in gender, ethnicity, cultural backgrounds and finances," he said. "I want the Board to consider all types of students. Let's work to not leave anyone behind."
David will serve a 1-year term through mid-April 2020.
In addition to the new student trustee, new officers were chosen to lead the Harper College Board of Trustees. The Board elected Trustee Pat Stack as chair, Trustee Bill Kelley as vice chair and Trustee Nancy Robb as secretary.