Student success agenda continues upward trajectory
Student success agenda continues upward trajectory

Harper College News Bureau

May 15, 2019

May 15, 2019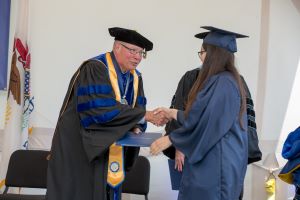 For much of Dr. Ken Ender's tenure as president, Harper College's student success agenda was fueled by a number: 10,604.
When President Barack Obama issued a challenge to community colleges in 2009 to produce an additional 5 million graduates by the year 2020, Harper did the math and determined that to meet its share of this goal, it would need to produce an additional 10,604 degrees and certificates. That's on top of the projected 20,000-plus credentials forecast by the trajectory at the time.
The campus community embraced 10,604 as a rallying cry.
"I thought it was a way of getting everybody on the same page. Even if they didn't know what the page meant, they knew it was important," Dr. Ender said. "It became an artifact for student success, a way to build momentum around the work we're doing."
Harper, of course, surpassed its goal in 2017 – three years early. But the momentum to propel students to the finish line hasn't waned.
As a result, Harper's graduation rate continues to climb, hitting a record* 32.7% in 2018, up from 14.8% in 2009.
A key initiative to helping students earn a credential has been to work in conjunction with Districts 211, 214 and 220 to significantly reduce the number of students needing to start at Harper in developmental classes.
"The research is clear: If you have to take two or more remedial courses, you're not going to graduate," Dr. Ender said. "Reducing the need for remediation is a huge gateway to graduation."
The collaboration is paying off: In 2009, just 48.8% of recent graduates from the three sender high school districts enrolled at Harper college-ready in math. By 2017, that number had jumped to 83.8%.
"The hard part now is helping students so they know, and we know, where they're trying to go and keep them engaged and connected until they're finished," he said. "Don't let them wander around the wilderness by themselves."
To better support their journey, Harper has moved to a case management approach to academic advising, which provides students with one person who's assigned to help them navigate the Harper experience from start to finish.
Since the new model was implemented in 2017, more than 11,000 credential-seeking students have been assigned to an advisor or counselor.
Advising also is organized around the 10 academic Areas of Interest that Harper established last year to help students better narrow their personal, educational and career goals.
The new model is helping more students feel connected and is contributing to higher retention. Harper's fall-to-fall persistence rate (which measures first-time, full-time, credential-seeking students who first enroll at Harper in the given semester and return the following fall) rose to 75.2% in fall 2017, up from 65% in fall 2011. The fall-to-spring persistence rate is even higher at 93%.
Plenty of difficult work remains for Harper to continue making strides, Dr. Ender said, from closing achievement gaps and increasing graduation rates of part-time students, to figuring out a better approach to supporting adult students and collecting better data on where students end up.
Nonetheless, he's optimistic that the college's commitment to student success will stand firm.
"A college credential has never been more crucial to success than in today's 21st century economy," Dr. Ender said. "We measure our success not by the number of students who come to us, but by the number of students who finish what they start."
*Record since tracking began in 1998.
Dr. Kenneth L. Ender will complete his 10-year tenure at Harper College on June 30, 2019.