Free summer concerts at the pavilion
Free summer concerts at the pavilion

Harper College News Bureau

June 25, 2019

June 25, 2019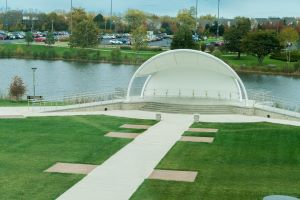 Many newcomers and familiar faces will perform in Harper College's fast-approaching outdoor summer concert series.
All concerts are free and will take place at the Drs. Kenneth and Catherine Ender Pavilion on the north side of Harper's main campus. The white arching structure synonymous with events like graduation makes for a perfect evening musical retreat.
The Continental String Ensemble will play a variety of upbeat classical music from the era of the 1893 Chicago World's Fair from 7 to 9 p.m. Thursday, June 27.
Next month, the Harper Jazz Faculty Summer Concert will explore the music of famous American jazz pianist Horace Silver and well-known jazz arrangements for an exciting and adventurous night of swing from 7:30 to 9:30 p.m. Tuesday, July 16.
The following week, the Harper Guitar Legacy, an all-alumni band, will play a series of works by classical composers in their concert titled Romanza: Guitar Music of the Romantic Era and Beyond from 7:30 to 9:30 p.m. Thursday, July 25.
To conclude the series, StringFusion, a jazz violinist group, will entice audience members with a repertoire from a number of genres from funk to bebop from 7:30 p.m. to 10 p.m. Thursday, Aug. 1.
Each concert features multiple faculty members as performers.
This will be the first time that Edgar Gabriel, who teaches violin and viola at Harper, will perform at the pavilion.
"This concert series is a gem of wonderful outdoor music this summer," Gabriel said, comparing the venue to Ravinia. "Right now it may be the Northwest suburbs' best kept secret."
Gabriel founded the Continental String Ensemble and StringFusion, and has performed with a variety of well-known artists including Cirque du Soleil, Andrea Bocelli and the Plain White T's.
Jeff Hedberg, who has been giving private lessons in jazz voice and trumpet on Harper's campus for eight years and heads another jazz group named C11, will also be performing at the pavilion for the first time.
"This outdoor space will allow the audience to experience what we have to offer in a more informal, down-to-earth setting," Hedberg said.
Attendees are advised to enter through the Euclid Avenue entrance and park in lots 9 and 10. Admission is free and there is lawn seating, so bring blankets and lawn chairs to enjoy a night under the stars.
For more information, visit the Harper College Event Calendar at events.harpercollege.edu.