New Makerspace and Entrepreneur Center bringing ideas to life
New Makerspace and Entrepreneur Center bringing ideas to life

Harper College News Bureau

August 7, 2019

August 7, 2019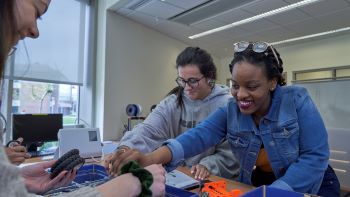 To Jeff Moy, Harper College's new Makerspace and Entrepreneur Center is about far more than 3D printers, laser cutters and CNC mills.
"This is about creating a community that will inspire people," Moy said. "By giving them the education and mentoring to innovate, we're helping to maximize the potential of a person. It's really about an individual making their dream come true."
A partnership between Harper and the Golden Corridor MakerSpace, the center aims to inspire the next generation of entrepreneurs, inventors and engineers to pursue their creative passions and bring their ideas to life by building a vibrant and engaging platform of tools, community, programming and mentoring.
The community is invited to explore the innovation hub at an upcoming Open House from 4 to 7 p.m. Thursday, August 15. The center is located in Building H, Room H130, on Harper's main campus, 1200 W. Algonquin Road in Palatine.
While library makerspaces are not uncommon, they're typically not for commercial purposes. Harper's Makerspace and Entrepreneur Center not only allows patrons to sell their fabricated goods, it encourages it.
Harper's center also differs from many others because of the mentoring component. Visitors meet with Moy at the "genius bar," where he provides guidance on how best to take a concept to a working prototype. Moy, who came out of retirement to help launch the center, previously worked as vice president for business development at Samsung. He also started various businesses including software and franchising companies.
So far, members are coming to the Makerspace with a few different objectives, according to Moy. First is the entrepreneur who needs a more professional space. Harper's center offers coworking options in which members can book meeting rooms and work in a bright, inviting environment. Second is the person who has a curiosity and passion for learning and technology. In one case, a woman worked with Moy to produce specialty parts for her company; the process inspired her to personally join and learn more.
Third is the person trying to bring an idea to life. The center serves as a business incubator and accelerator in which experts help strategize about design, materials to use, fabrication options, and development and testing strategies.
Harper alum Adam Coonich is a Makerspace member working to prototype an idea he has related to the automotive industry. He appreciates tapping into the staff's experience and knowledge.
"The extra minds to bounce ideas off of and test out the new and creative vs. practical and proven is a huge benefit to making progress," Coonich said.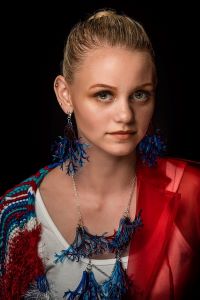 The center serves as a lab for Harper's Entrepreneurship Certificate Program, and numerous other students are taking advantage of the space, as well. Aleska Schwartz designed a 3D model of a chocolate mold that was used to provide treats at the college's Explore Engineering event. Fashion design student Yesenia Guzman laser cut acrylic to make custom earrings and necklaces to accessorize the outfits she made for the spring 2019 Fashion Show.
"The jewelry definitely gave an oomph to the whole look," she said. "I'm excited to try different things."
Whether people are simply looking to tinker or are ready to ramp up their business, Moy said the Makerspace will fit whatever stage they're at.
"When you want to go to the next level, we're here for you," Moy said.
To learn more about the Makerspace and Entrepreneur Center, and to register for the August 15 Open House, visit harpercollege.edu/maker.