Prairie dedicated in memory of beloved biology professor
Prairie dedicated in memory of beloved biology professor

Harper College News Bureau

September 20, 2019

September 20, 2019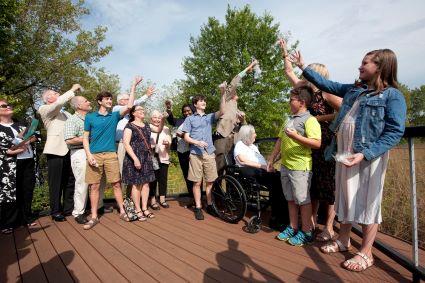 The prairie at Harper College will now be known for the beloved professor who helped transform acres of grassland into a robust ecological and learning community.
Friends, family and colleagues gathered Thursday to formally dedicate the Craig Stettner Prairie at Harper College.
A full-time faculty member in the college's biology department since 2002, Stettner was passionate about conservation and regularly took his students out to the prairie to conduct habitat restoration, monitoring, clear trails and supervise annual controlled burns.
Stettner drowned last December while swimming with his family in Costa Rica, where he was preparing for students to join him for a field research study abroad program in the rainforest.
"We mourn the loss of Craig, but we also celebrate the indelible mark he left on Harper College through his work," Dr. Avis Proctor, Harper College president, said during a program in the Building J Theatre. Dr. Proctor also presented Stettner's family with a plaque and read a resolution that was sponsored by state Sen. Laura Murphy and adopted by the Illinois Senate.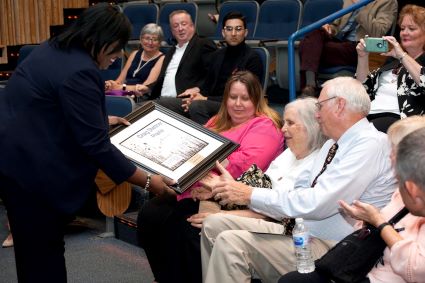 Those who spoke at the dedication underscored Stettner's selflessness, generosity and willingness to go above and beyond to help his students.
"His love for education and nature brought more than just the class together; it created small families amongst strangers both here and in Costa Rica," said former student Krystel Garcia, who counts herself among Stettner's "eco-warriors" who will carry on his work.
Professor Emeritus Randall Schietzelt displayed a photograph of a rare species of silk moth that was found this past August at a Costa Rican field station Stettner liked to visit. The insect has no common name, so Schietzelt enlisted the help of those in attendance to change that.
"We'd like to get these pictures up on the internet with the name 'Stettner Silk Moth,'" he said.
After the program, the group made its way to the prairie so that Stettner's family could spread milkweed, a flowering plant that supports the monarch butterfly population.
"Without his work, the prairie wouldn't be what it is today," Assistant Professor Nellie Khalil said.