"Reginald Coleman: On Target" exhibition on display
"Reginald Coleman: On Target" exhibition on display

Harper College News Bureau

October 23, 2019

October 23, 2019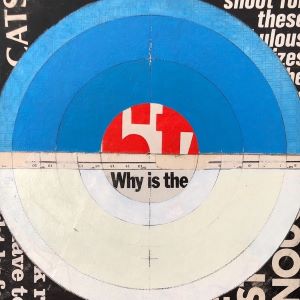 Harper College is hosting an exhibition featuring the work of artist Reginald Coleman.
The exhibition, "On Target," runs through Thursday, November 7, in Harper's Art Exhibition Space, Building C, Room C200, on the college's main campus, 1200 W. Algonquin Road in Palatine.
The pieces in this exhibition are part of Coleman's ongoing Target series. He has continued this series on and off since the mid-1990s, evolving yet holding true to a strict compositional format.
Coleman said he combined graphic markings with images taken from 1960s-era magazines, calling them "dense with content, history and a bit of humor."
But more important than the content, he said, is the composition. "I have purposely manipulated images and text to entice the viewer to look at the compositional structure," he said. "I always want composition – how it is – to trump content – what it is. This current visit to a previous series is an intriguing journey with fresh eyes on a familiar subject."
Coleman lives and works in the northern suburbs and is a retired professor of art from College of Lake County. Coleman's work is in many collections around the country.
Harper College is also host to a 360-piece permanent art collection. Call 847.925.6336 to learn more.