Adaptive Sports Day to bring lessons, demos to Harper
Adaptive Sports Day to bring lessons, demos to Harper

Harper College News Bureau

November 20, 2019

November 20, 2019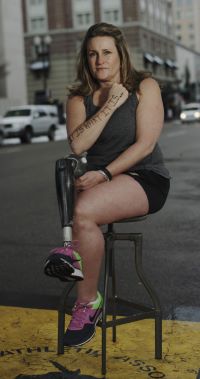 Read more about how the event went in the Daily Herald.
Sevval Kurtaran had designed flyers before, but she'd never done so with people with visual impairments in mind.
So when the Harper College student was asked to turn her flyer promoting Adaptive Sports Day into something accessible, she reached out to the college's Access and Disability Services office, which showed her how to use an accessibility tracker.
The trick, she learned, was to make the flyer scannable by a reader, so she removed a decorative background, used only black and white, and added accessibility-friendly alt text so the scanner could describe what the image showed.
"Now that I know how the accessibility tool works, I think I'm going to use that tool more in the future," she said.
That's the sort of goal Harper hopes to achieve through Adaptive Sports Day, which will take place from noon to 4 p.m. Tuesday, December 3, at the Foglia Foundation Health and Recreation Center.
It not only celebrates the abilities of students with disabilities but teaches those who are non-disabled about those abilities. With more awareness, the college can become a more inclusive, welcoming environment, said Beth Ripperger, Harper Wellness manager and Kurtaran's supervisor.
"Oftentimes, people don't even know what adaptive sports are," Ripperger said. "We started to talk about, 'What do we want day to look like?' and 'What do we want people to learn?'"
Adaptive sports are those that allow anyone to play, including those with disabilities. The sport might be entirely new, or perhaps small adjustments have been made to a popular sport that allow people with disabilities to participate.
Consider the game beat ball, Ripperger said, which is played with blindfolds. Whether someone is blind or has no visual impairment, the blindfolds level the playing field.
"There are ways we can change our environment to make sports more inclusive for everyone," she said.
In addition to adaptive sports demos – including a University of Wisconsin-Whitewater wheelchair basketball game and a Chicago Lions wheelchair rugby demo – the day will include:
Keynote speaker Roseann Sdoia, who lost part of her right leg in the 2013 Boston Marathon bombing.
Visits from former Atlanta Falcons running back Tim Tyrrell and Clark and Southpaw, the Chicago Cubs and White Sox mascots.
Interactive booths from college departments, including American Sign Language Club lessons about basic sports-related signs.
Chair yoga sessions by Adaptive Adventures, which provides sports opportunities for people with disabilities.
While this is Harper's first Adaptive Sports Day in recent memory, Ripperger is hopeful that it will not be the last.
"That'd be great if this became a tradition, something people could interact with on yearly basis," she said. "Hopefully, we'll even think about our intramural opportunities for students, faculty and staff in the future surrounding adaptive sports."
Adaptive Sports Day is Tuesday, December 3, from noon to 4 p.m. at the Foglia Foundation Health and Recreation Center's Gymnasium, Building M.