Social justice leadership program helping employees advance Harper's DEI work
Social justice leadership program helping employees advance Harper's DEI work

Harper College News Bureau

July 8, 2020

July 8, 2020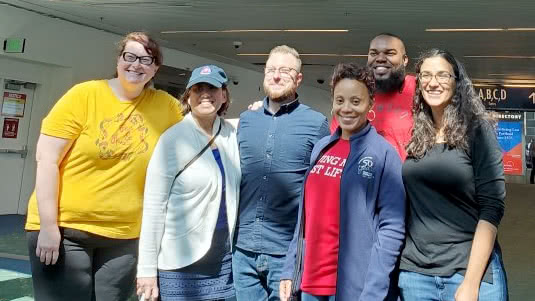 To better approach the difficult work of diversity, equity and inclusion and effect systemic change, a group of Harper College employees are committing themselves to understanding and advancing social justice.
Now in its third year, Harper's Social Justice Leadership Certificate program continues to grow as the country finds itself in the midst of significant sociocultural change and a global pandemic that are shining a light on issues of equity.
The program, which this year includes eight Harper employees and a community member who works closely with Harper students, is based on social justice theory, with the idea that better trained employees can help foster a more diverse, equitable and inclusive campus community.
"Our goal has always been to infuse our classroom with a global perspective, which by definition is a diversity perspective," said Professor Richard Johnson, one of the program's founders and director of Harper's Office of International Education. "In order to have a student body that recognizes that, we have to make sure our faculty are global-minded."
Many of the "a-ha" moments for participants come from attending the National Conference on Race and Ethnicity in American Higher Education, Johnson said, where attendees walk away saying some version of, "I didn't know that. I didn't understand that. I never thought about that."
Joe Scrima, manager of the Testing Center, was a part of the leadership program's inaugural cohort. The conference's first keynote was a "raw, pointed conversation about racism" that has stuck with him since attending: Joy DeGruy discussed her book, "Post Traumatic Slave Syndrome: America's Legacy of Enduring Injury and Healing."
The author tore apart the idea that "all men are created equal," highlighting that it was actually the rich, white, land-owning men who reaped the benefits of American freedom. As an exercise, the author asked those rich, white, land-owning men in attendance to stand and share their secrets of success with the group.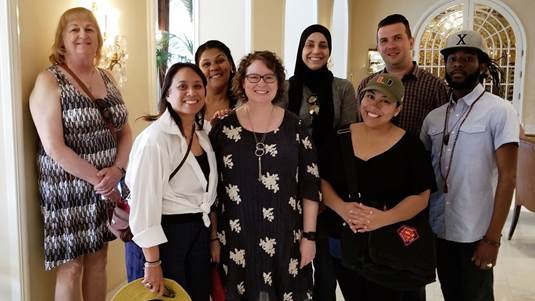 Scrima didn't stand. He remembers thinking, I'm white, but I'm sure as heck not rich. It took until after the conference to realize: When he didn't stand due to his discomfort, he had manifested white fragility.
"Objectively, I'm not rich, but I'm far from impoverished," Scrima said. "I used that as an excuse to recuse myself from the conversation. It was too uncomfortable for me to engage in the realities of my privilege. How many times have I done that without really knowing? Probably countless times, and it's not a good feeling."
The first half of Harper's social justice program focuses on the principles of organizational decision-making, while the second half is for project development. Participants pitch their projects to the social justice leadership advisory group.
One such idea that came out of a cohort was to reestablish an intercultural space on campus. As the college population becomes more diverse, the center's importance grows, said Claudia Mercado, co-head of the program and interim vice president for diversity, equity and inclusion.
The center is still in its development stages, but Mercado said the program graduates who pitched the idea are still involved and motivated, and the college hopes to have the center completed within the next year.
"Their official capacity in terms of the program has ended – there are no more pitches or meetings or evaluation – but the work isn't done," Mercado said. "They still want to remain engaged (and are) still wanting to be a part of this bigger project."
The program's initiatives overlap with three of the college's goals for the next strategic plan, which will launch this fall: reducing equity gaps, reducing barriers to student success, and improving campus culture and climate.
Crystal Loggins, an academic advisor, applied for this year's cohort in part because she saw the excitement surrounding the program.
"I'm hoping to listen and learn," Loggins said. "I would like to leave feeling far more confident in my ability to apply what I've learned to projects that lead to systemic change."