Harper joins COVID-19 College Vaccine Challenge, holds June 29 clinic
Harper joins COVID-19 College Vaccine Challenge, holds June 29 clinic

Harper College News Bureau

June 11, 2021

June 11, 2021
Join the Challenge!
What: COVID-19 Vaccine Clinic
When: June 29, 10 a.m.-5 p.m.
Where: Building M gym
Who: Open to all students, employees and community members ages 12 and older
Appointments are encouraged and can be made at bit.ly/HarperJune29Vaccine. Walk-ins are also welcome.
The first 200 Harper students will receive a $100 HarperStore (bookstore) gift card and $50 Sodexo (campus dining) gift card!
Harper College has partnered with the White House to join the COVID-19 College Vaccine Challenge, a nationwide effort to get as many Americans as possible vaccinated and end the pandemic.
To help make vaccines more accessible, Harper is inviting students, employees and the community to get their COVID-19 vaccine at an on-campus clinic from 10 a.m. to 5 p.m. Tuesday, June 29.
The clinic will be held at the Foglia Foundation Health and Recreation Center (Building M). Convenient parking is located in lot 1, and Uber and Lyft are offering free rides to campus for anyone getting vaccinated as part of the Challenge.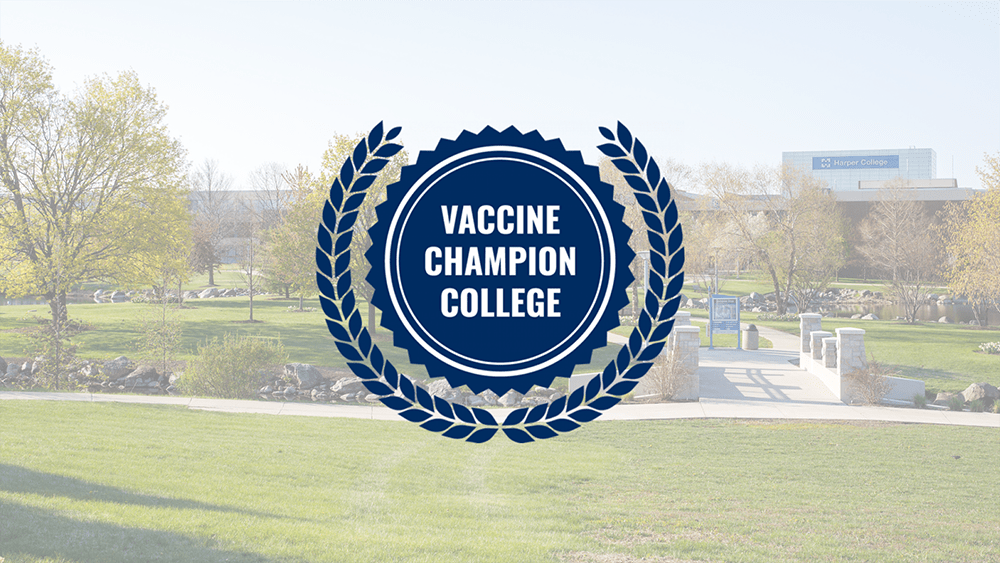 The Pfizer vaccine will be offered to anyone age 12 and older. Recipients will receive additional information about a second dose. CVS Pharmacy will be on campus providing the COVID-19 vaccinations. Appointments are encouraged and can be made at bit.ly/HarperJune29Vaccine.
The COVID-19 College Challenge is part of President Joe Biden's goal for 70% of the U.S. adult population to have one vaccine shot and 160 million U.S. adults to be fully vaccinated by July 4. Harper is among hundreds of colleges and universities across the country to adopt the initiative.
Participating colleges commit to taking three key actions to help get their campus communities vaccinated: engaging every student, faculty, and staff member; organizing their college communities; and delivering vaccine access for all.
Please bring your insurance card if you have one. If you do not have insurance, you will be asked for a social security number, driver's license number or state ID. If you are not able to provide these, do not worry. The vaccine will be offered to anyone age 12 or older, regardless of insurance or immigration status.