With diploma in hand, HSE Distinguished Scholar is ready for more
With diploma in hand, HSE Distinguished Scholar is ready for more

Harper College News Bureau

June 14, 2021

June 14, 2021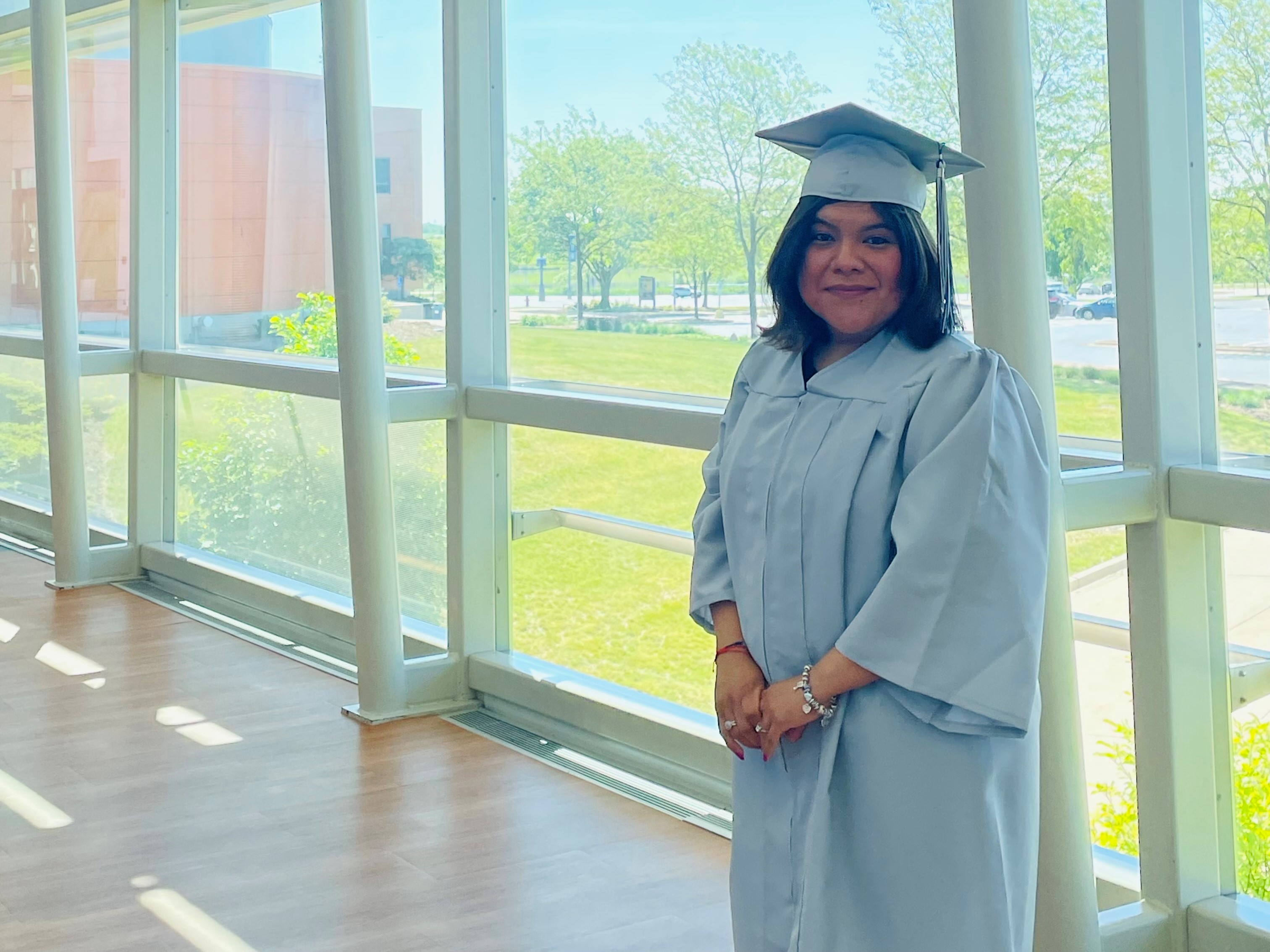 Adaly Gonzalez felt like she never got to see her kids.
After 14 years of working for the same retail chain, after too many 14-hour days, Adaly was done. She could no longer spend so much time away from her daughter and two sons.
"I realized that my kids were missing so much out of me," she said. "I thought, 'I cannot be in retail for another 14 years.'"
Yet, in some ways, those years had been good. Beginning as a teenage cashier, she was promoted many times into roles in management, loss prevention and human resources – the last of which she enjoyed the most. But after quitting in 2019 and seeking to take her talents elsewhere, Adaly found that new HR job opportunities would require a high school diploma and an HR certificate. She had neither.
Now in her 30s, Adaly found her way to Harper College by reaching out to Kathy Millin, executive director of Partners for Our Communities in Palatine. Kathy was familiar face from Adaly's time as a retail manager. The two had arranged grants from the retail chain for the community organization to help underserved families in the area. Now Adaly needed POC's assistance.
Kathy encouraged Adaly to take classes at POC (a Harper partner) to pass General Education Development tests and earn a High School Equivalency diploma. Two years ago, Adaly simultaneously enrolled in Harper's GED program and began working as a bilingual liaison for POC.
"It was hard," she said. "It was starting all over."
Virtual High School Equivalency Graduation
When: 7 p.m. Friday, June 18
Where: Online
Info: The ceremony will celebrate all who want to be publicly acknowledged for their achievement and feature remarks from Dr. Avis Proctor, president, as well as HSE Distinguished Scholars Adaly Gonzalez and Xiling Chen. Supporters can send "shout outs" to graduates online.
It wasn't the first time Adaly had started over. Born in Mexico, she had stayed behind when her mother left for the U.S. with the hope of building a better life for her family. As a young girl, Adaly spent a couple of years without her mother before crossing the border at the age of seven.
Life wasn't instantly better in Mount Prospect. She had to learn a new language, new schools and new ways of doing things. She didn't have much help from her mother, who spoke no English and worked two jobs to provide for the family.
"It was me by myself," she remembered. "I tried to do whatever I could without asking my mom or sister."
She described herself as a good daughter who stayed away from drugs, worked hard in school and tried to leave her trauma behind. In high school, Adaly began spending more time with her boyfriend. She got pregnant her senior year.
It was a difficult year. After 17-year-old Adaly learned she was pregnant, her mother lost her job and her father was diagnosed with cancer. She left school to take care of her ailing father. Adaly gave birth to a son. Her father died. At 19, she began her cashier job to provide for her son and family.
"I promised myself I would not last," she said, recalling that she planned to go back to school and become a cosmetologist.
Flash forward more than a decade and a half and Adaly was back to taking high school classes. Language arts was OK, but science was tricky, and math was "a struggle." She said that encouragement from Kathy Millin at POC and her family kept her on track.
"Going through the classes, you start connecting what you remember. It started to get easier," Adaly said. "You have your classes, plus your job, plus your kids. You think, 'Should I just give up?' Then I go home and see my kids and I think, 'I cannot run away from this. I'm teaching by my example.'"
The onset of the COVID-19 pandemic added extra barriers, but Adaly persevered with online instruction and tests. Her husband worked double shifts to make sure she could keep up with her studies. Not only did she complete her high school equivalency tests during the spring 2021 semester, she earned Harper's HSE Distinguished Scholarship, which provides tuition for a degree or certificate at the college.
"I was so surprised," she said about the moment she found out about being awarded the competitive scholarship. "I have never won anything!"
As a Distinguished Scholar, Adaly will also speak at Harper's Virtual High School Equivalency Graduation at 7 p.m. Friday, June 18. In her remarks, she will reflect on her journey and look forward to the fall, when she'll join Harper's Fast Track Program with the goal of earning her Human Resources Management certificate.
"I feel like I belong more to society," she said. "You feel awkward because you have so much work experience, but not the degree or certificate. I feel that sense of relief. I can't believe that I graduated from high school!"
Adaly is not only exuberant about her achievement, she's become an education evangelist, encouraging others who dropped out of high school years ago to return to their educational paths.
"I just thank Harper for thinking about all the adults out there who never got a second chance at education," she said. "I know what it was like to not have support, with my mother working two jobs. Your kids will appreciate it later on, when you're helping them with their homework."