Ten Questions with Dr. Tamara A. Johnson
Ten Questions with Dr. Tamara A. Johnson

Communications

September 7, 2021

September 7, 2021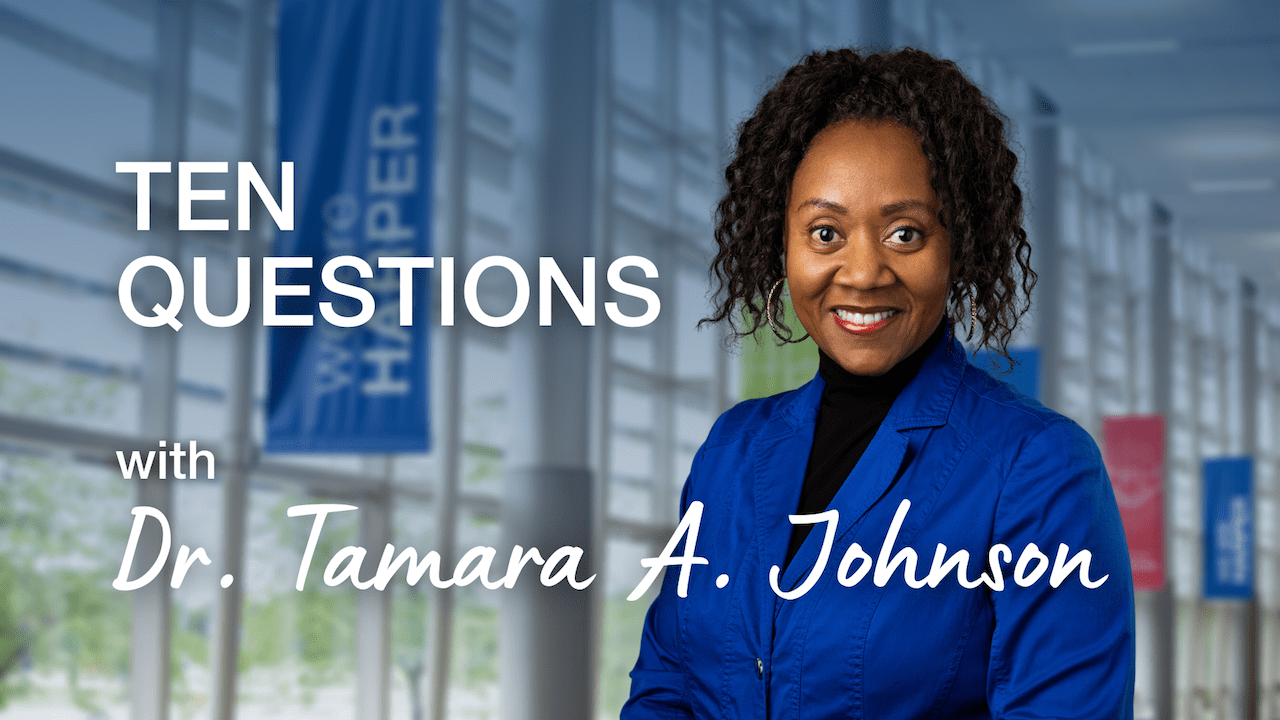 Dr. Tamara A. Johnson, vice president of diversity, equity and inclusion at Harper College, has dedicated her career to being of service to others. After earning a doctorate in counseling psychology at Indiana State University, she worked as a consultant and post-doctoral fellow at the U.S. Department of Veterans Affairs. For more than a decade, she has led DEI work at educational institutions such as Adler University, the University of Wisconsin-Eau Claire, the University of Chicago and Northwestern University. She now arrives at Harper with the experience and vision to inspire, connect and empower the rich diversity of our college community. But when she's not breaking barriers, you can find her kicked back on a sunny day taking in the sounds of Stevie Wonder. Here are ten questions with Dr. Johnson.
Describe your perfect day.
My perfect day involves exercising, relaxing and eating good food! If the weather is 80 degrees with a breeze, that's perfect for me. Doesn't take a lot for me to enjoy the day. I consider it a blessing to wake up each morning healthy (mentally and physically), employed and with great family and friends surrounding me.
Who was your role model growing up?
My grandmother was my role model. She was smart, strong, spiritual and made significant sacrifices for her family. She was wise, listened without judgment and was good at keeping secrets! She was also a great cook and had the best sense of humor.
Favorite musical artists?
I adore Stevie Wonder! His voice is incredible, he has so many songs with meaningful lyrics and he is a phenomenal performer. When I listen to his music, I can't help but feel the emotions that are associated with his words. He is a trailblazer in so many ways and has had an amazing career.
Favorite movies?
One of my favorite movies is "Love and Basketball." There's a sweetness about this movie as the storyline follows the couple from childhood to adolescence to adulthood. I appreciate the challenges the movie portrays related to balancing professional aspirations with personal/relational goals and the tough decisions we make throughout life. And, it has a happy ending!
You could be best friends with any fictional character, who do you choose and why?
I'll have to go with the Black Panther! He has such a strong character and his leadership style demonstrates respect and humility.
Of which personal achievement are you most proud?
Although completion of my doctorate is a professional achievement – it's also a personal achievement since it took so much time, dedication, persistence and resilience to complete. I was also the first person in my family to obtain a doctorate, so there's a collective success that made this accomplishment even more special. As my cousin often says, "when you win…we all win!"
If you could make a documentary on any topic, what would it be?
I am fascinated by the construction of skyscrapers – although the older I get, the more I'm afraid of heights! I'm sure there must be a documentary about the creation of the Chicago skyscrapers, but that is one of the topics that I'd really enjoy creating a documentary on.
What is the best advice you ever received?
You can only be second best at being someone else, but you can always be number one at being yourself. My mother actually gave this advice to my younger sister, but it resonated with me. So while I try to learn something from everyone I meet, I'm also intentional about staying true to who I am and being the very best me that I can be.
What are you hopeful for?
I am hopeful that we will find a cure for cancer. Although it's inspiring to see the many survivors, the losses are so very painful.
What do you love about Harper College?
I love that everyone is so passionate about student success and I love how welcoming everyone has been since I arrived!