Helping Hands: Harper program to host chair massage fundraiser
Helping Hands: Harper program to host chair massage fundraiser

Harper College News Bureau

June 9, 2022

June 9, 2022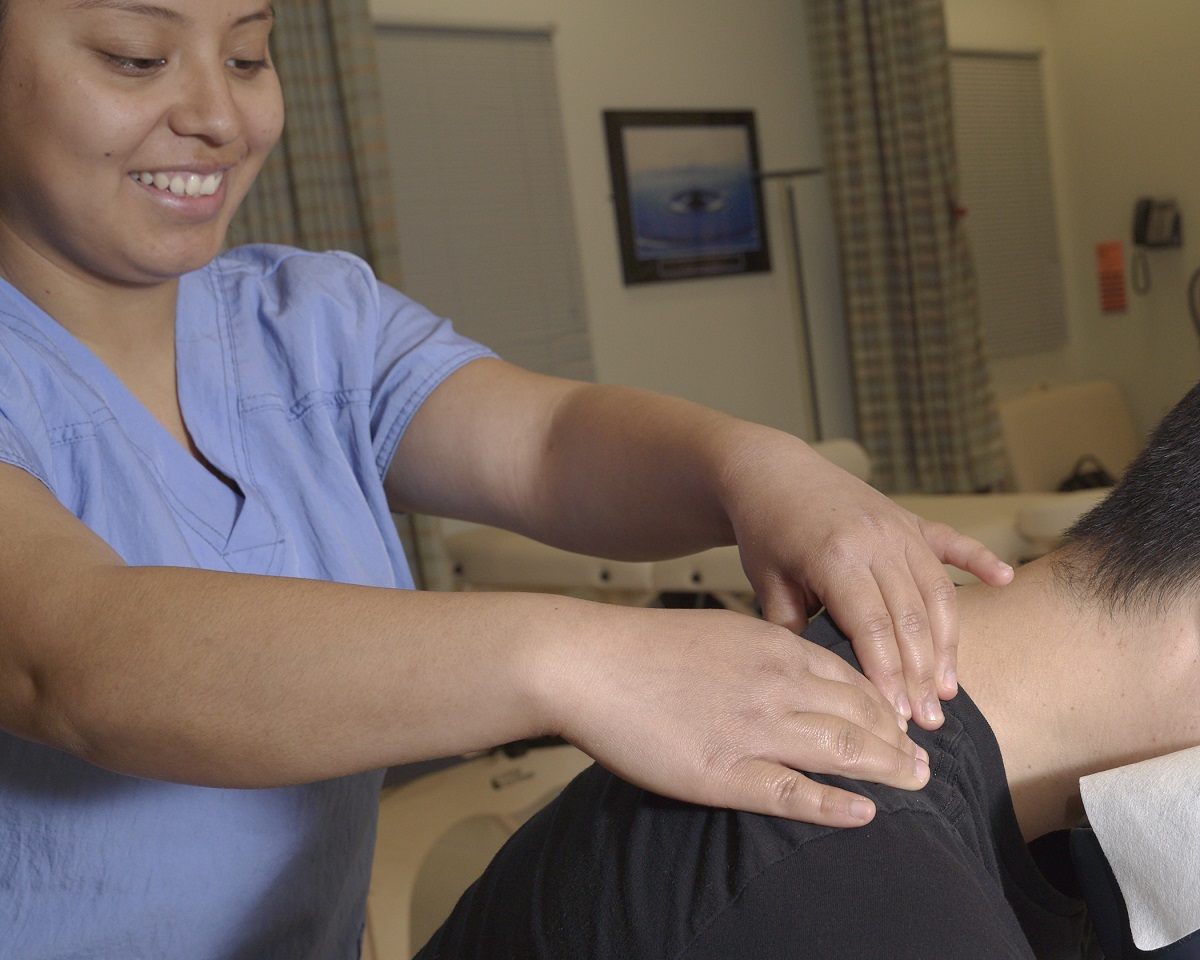 A massage from one of Harper College's Massage Therapy students feels pretty good, but it can feel even better when the experience supports a worthy cause.
Massage Therapy Program students will be participating in The Longest Day fundraiser, an annual event that benefits the Alzheimer's Association through a variety of smaller events. Seven students from the program will be administering chair massages in two shifts, from 12:30 to 2:30 p.m. and 3 to 5 p.m. on Tuesday, June 21, in the Massage Therapy Clinic lobby in Building X on Harper's campus, 1200 W. Algonquin Road, Palatine.
Program members are asking for a suggested donation of $10 for each 10-minute session in the "chair massage-athon," which will be first-come, first-served.
In addition to the fundraiser, the chair massages serve as an opportunity for students to gain clinical experience as they participate in Harper's program, one of fewer than 70 accredited programs in the U.S. Students can complete their studies in less than one year before becoming licensed massage therapists.
Jeremy Miller, coordinator of the Massage Therapy Program, thinks it's important to include service-learning opportunities in the program. Previous chair massage fundraisers have benefitted Hawks Care, which assists Harper students with basic needs, and local nonprofit organization the Kenneth Young Center.
"We try to embed a service focus into the program," he said. "It's not just, 'How much money can I make?' It's about getting them thinking of volunteerism and being of service to their community."
The idea for the Alzheimer's Association fundraiser came from a loyal client of Harper's clinic. She asked for a massage session donation for a silent auction as part of The Longest Day event.
"It brought this to our attention," Miller said. "Sure, we can do that, but we can also contribute in our own way."
Participants will be able to directly donate to the Alzheimer's Association via on-site computers. Those who aren't able to attend can still donate on The Longest Day website, crediting Harper's Massage Therapy Program as a fundraising team.
For more information, visit the Massage Therapy Program webpage or contact Miller at jmiller4@harpercollege.edu or 847.925.6076.