Harper promotes mental health awareness with Fresh Check Day
Harper promotes mental health awareness with Fresh Check Day

Harper College News Bureau

March 6, 2023

March 6, 2023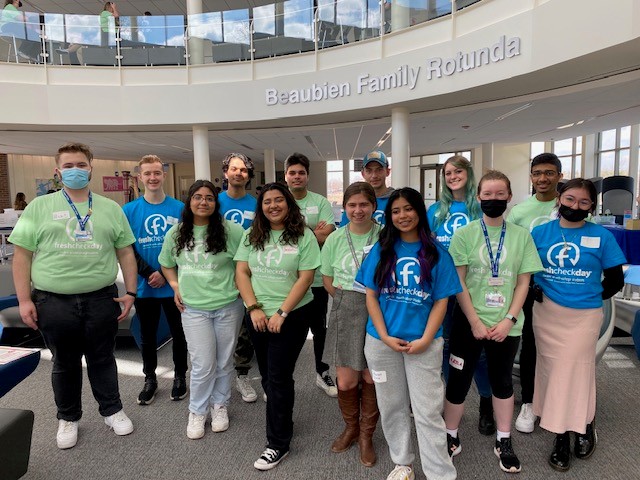 For the fourth year running, Harper College will participate in Fresh Check Day, an uplifting event designed to help students recognize the signs of suicide and become more comfortable talking about mental health resources.
This year's edition will take place from 11 a.m. to 2 p.m. Wednesday, March 15, in the Building D Rotunda on Harper's main campus, 1200 W. Algonquin Road, Palatine. The college's Fresh Check Day will feature a variety of booths, each with a tie to a component of mental health, along with free food, activities and prizes.
"Mental health awareness and suicide prevention is a community-wide issue, which takes a community approach," said Beth McPartlin, manager of Harper Wellness. "It's not one office or person who is going to reduce the stigma or share out resources. Rather, it takes the entire campus and community coming together to bring awareness to resources so that students – and campus and community members – know what resources are available and where to ask for help."
Fresh Check Day, the signature program of the Jordan Porco Foundation, aims to create an approachable and hopeful atmosphere that encourages students to engage in dialogues about mental health. One of the goals of the program is to build a bridge between students and the mental health resources available on campus, in the community and nationally.
"One in 10 college students contemplates suicide," McPartlin said. "However, that leaves nine other students, along with employees or community members, who can potentially step in and save a life by sharing out important mental health resources."
Harper began hosting Fresh Check Day in 2020 and the event has grown in the years since, with additional employees and students involved in the planning committee. Hundreds of Harper students attended the 2022 edition.
Click here for more information.