EWC offers holistic support, paths to sustainable careers
EWC offers holistic support, paths to sustainable careers

Harper College News Bureau

May 11, 2023

May 11, 2023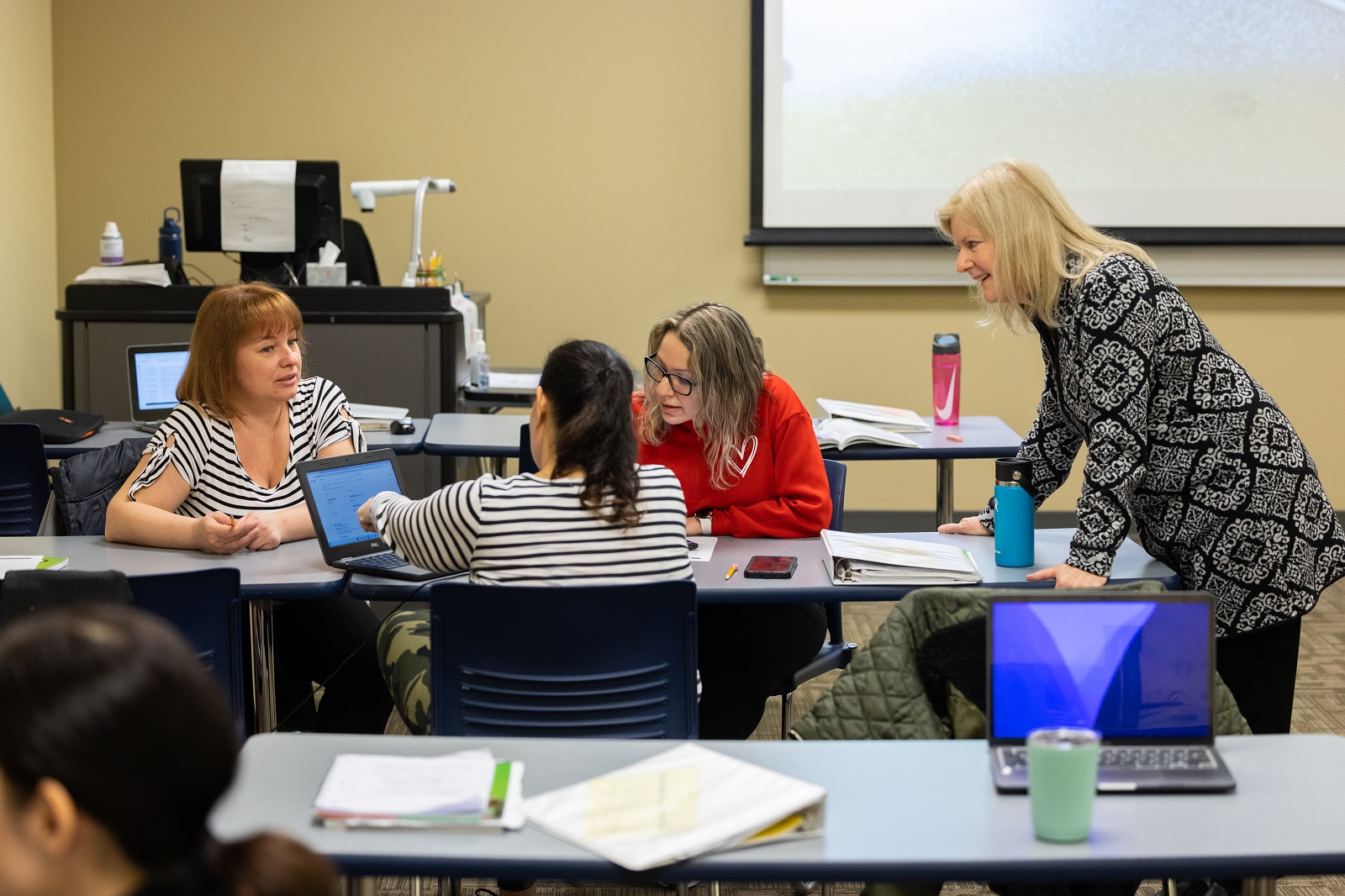 English as a second language (ESL) students interact with instructor Betsy Kubota during a class at the Education and Work Center. The Hanover Park center offers free classes and workforce development geared to the region's immigrant population.
The E and W in EWC stand for Education and Work, but they just as easily could be short for Everybody and Welcome.
That's because faculty and staff at the Education and Work Center, 6704 Barrington Road, Hanover Park, are as devoted to offering a path to a sustainable career as they are to supporting a prospective student's dream of an education. Everyone is greeted warmly. Each person gets the assistance they need. No one is turned away.
"The first face you see is very important when it comes to institutions. Our priority is to be approachable," said Monika Gadek-Stephan, EWC's senior director. "It starts with the front desk and the bilingual staff who can work with students in English or Spanish. The majority of the people we serve are Spanish language speakers. They can get answers and support in Spanish."
Founded in 2014, EWC is strategically located in Hanover Park, home to large immigrant populations that have been underserved when it comes to educational resources. For instance, 37% of EWC students don't have a high school degree. Many barriers exist for these individuals: language, cost and proximity to the central campuses of nearby community colleges. Harper College and Elgin Community College are each about a 10-mile drive from EWC.
In order to meet these students where they are (in more ways than one), EWC was built from an alliance between Harper, ECC, the Chicago Cook Workforce Partnership, the Village of Hanover Park and the State of Illinois. Its mission: "To expand educational and employment opportunities for residents of Hanover Park and surrounding communities through coordinated education, workforce development and career readiness activities."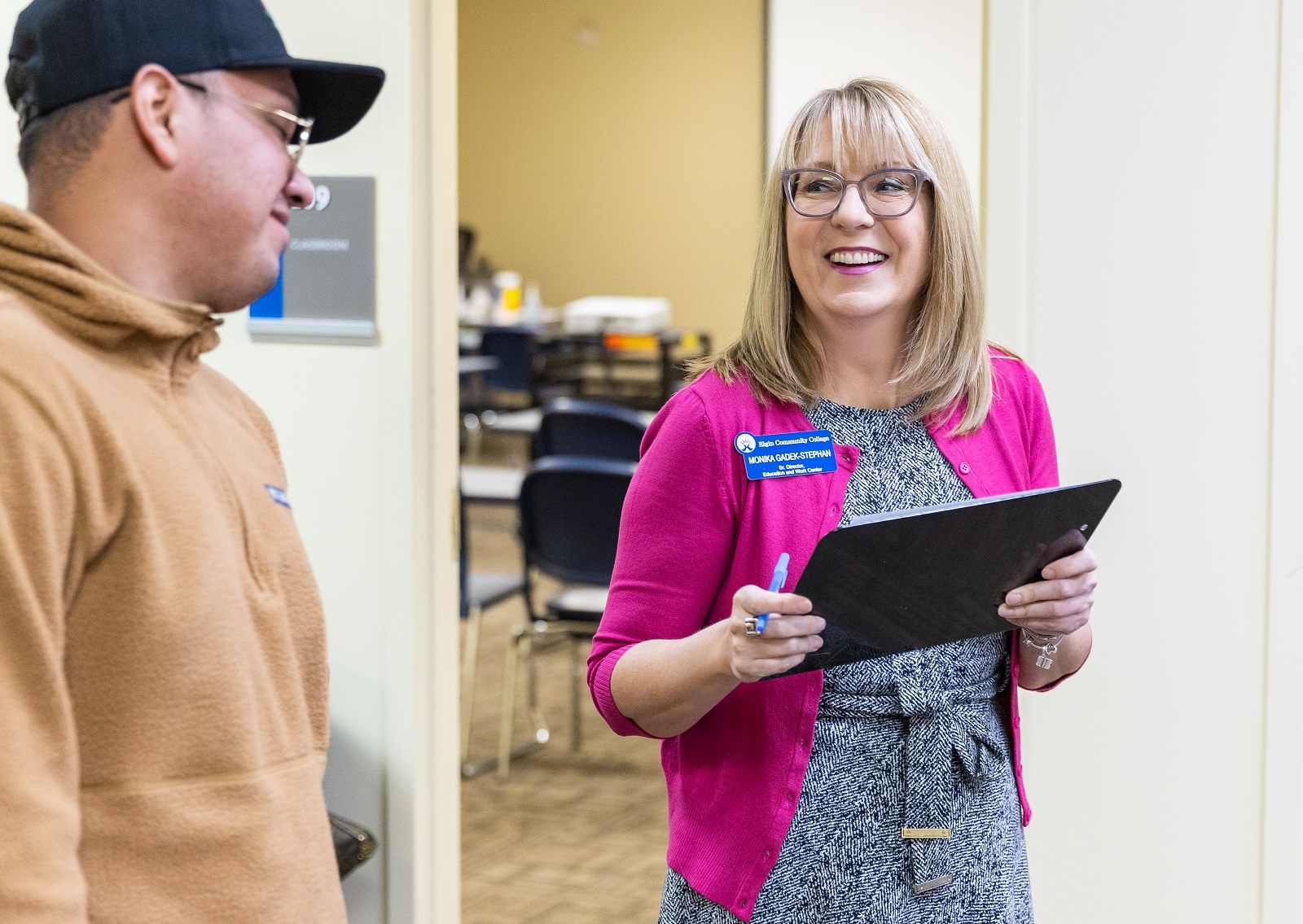 Monika Gadek-Stephan, EWC's senior director, said that staff and faculty at the center prioritize being approachable and welcoming.
What does that look like in practice? Beginner and intermediate English as a second language (ESL) classes and high school equivalency classes taught during the day by Harper instructors and in the evening by ECC instructors. Computer skills courses focused on online job searches and building resumes along with the onsite Illinois WorkNet Center. Classes, training and workshops that are free of charge for all who walk in the door.
"EWC is part of Harper College. Our goal is to serve the community and to work with employers," says Dr. Joanne Ivory, dean of career and technical programs at Harper. "What's happening at EWC goes back to our core values of helping students to earn diplomas, credentials, degrees – whatever they need to have successful, sustainable careers."
EWC's success stories are numerous. Some students began with ESL classes at the center, then went to Harper or ECC and earned a credential to further their careers. Others needed translation assistance or career support to help them land a new job. Then there are the dozens and dozens of students who have achieved their Illinois High School Diplomas (formerly known as high school equivalency certificates) since the center opened.
Enrollment, which dipped during the pandemic, is returning to pre-pandemic levels, and then some. Gadek-Stephan said that the number of students in 2022-23 has broken the center's all-time record. EWC students' experiences are as varied as their countries of origin – currently standing at more than 30.
Although the largest populations come from Venezuela and Mexico, EWC serves students hailing from five continents. Iryna Dzundza came from Ukraine in 2022, after the war began. Her ex-husband had been working in the Chicago area for five years and was able to arrange to have Iryna and their two sons come to the U.S. to ensure their safety.
Iryna, 40, and her kids settled in Hanover Park in the summer, and she began taking ESL classes at EWC for the fall 2022 semester. Overwhelmed and experiencing culture shock, she found comfort in the EWC community – not just the helpful staff and supportive instructors, but her fellow students.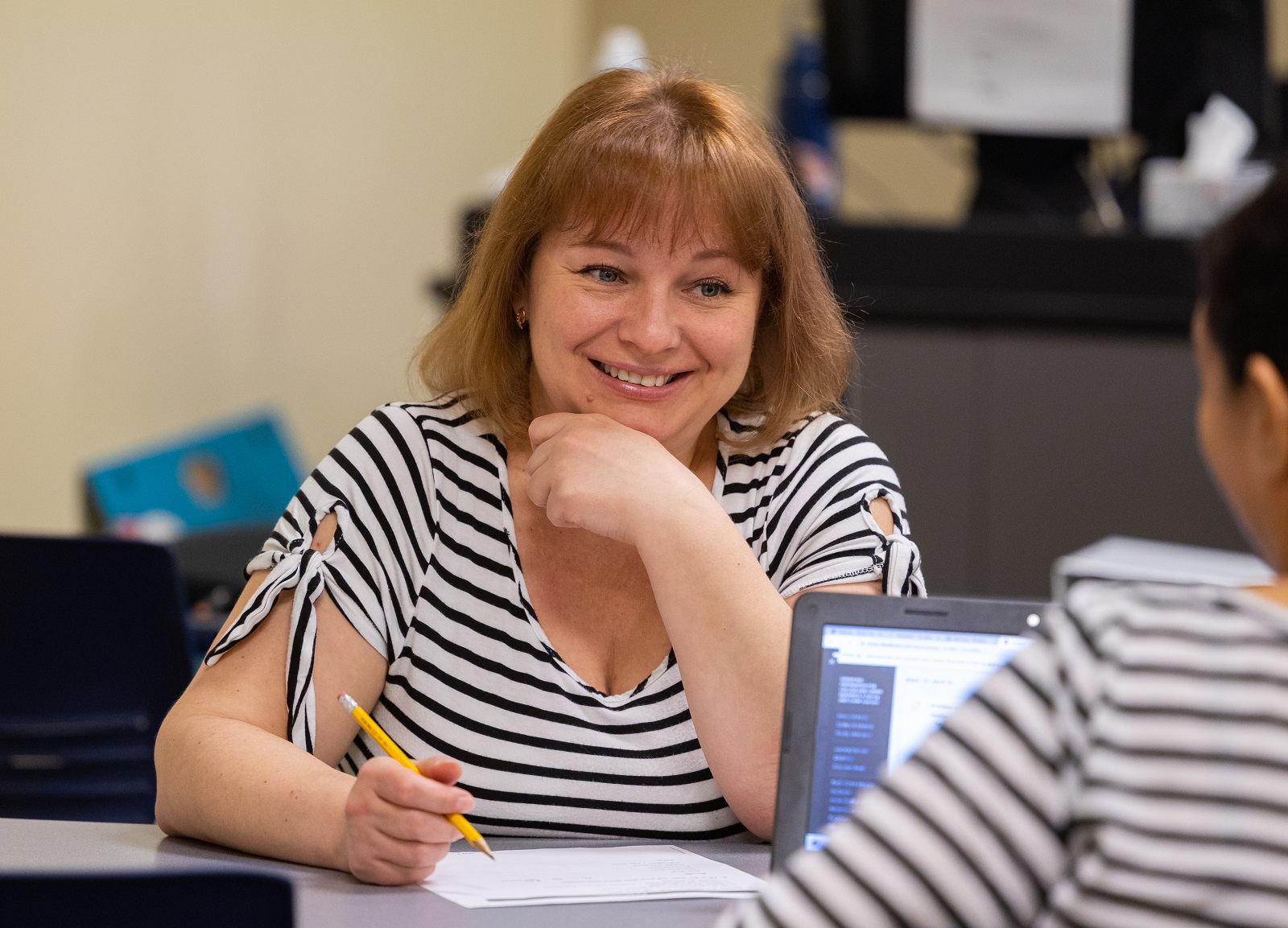 Iryna Dzundza, who immigrated to the U.S. from Ukraine in 2022, praised the EWC's educational benefits and sense of community.
"We don't just study English, the ESL [course] helps us immigrants understand U.S. culture," Iryna said. "And not just the U.S., but Venezuela, Mexico, Colombia… because of the other students. It's very interesting. It's wonderful."
Iryna progressed to an intermediate ESL course this spring and added on a digital skills course. Her instructors, Betsy Kubota and Claudia López Heinrich, said she is flourishing, and they've given her classroom leadership opportunities as a result. Iryna seeks to work in accounting (her career in Ukraine) or technology as her English continues to improve.
"I used to be worried about how people would hear or look at me because I couldn't speak English. Now I'm proud that I can speak," Iryna said. "I have more to learn. But no matter how old you are, you can start here and work to become what you want."
Bianel Hernandez Huerta experienced similar culture shock when she arrived in the U.S. from Michoacán, Mexico, in 2017. Now 32, living in Aurora and working as a dental assistant, she enrolled in a Workplace Computer Skills course last summer at EWC to help her apply her English skills in a different context. She said she was impressed by the course (also taught by Lopez Heinrich) and that EWC's staff connected her with a job opportunity, although it didn't work out due to logistical circumstances.
"EWC was super helpful for me," Bianel said. "They have flexible schedules for people who work different hours. Everything I learned is very useful and I hope they can continue to offer new classes."
New courses are indeed on the way. In fall 2023, Harper is planning to offer virtual courses for forklift operator certification. The center will also build on the successes of its computer skills classes by offering digital literacy courses. The new courses are part of Harper's Paths to College and Career program, made possible by the Illinois Community College Board's Innovative Bridge and Transition Grant.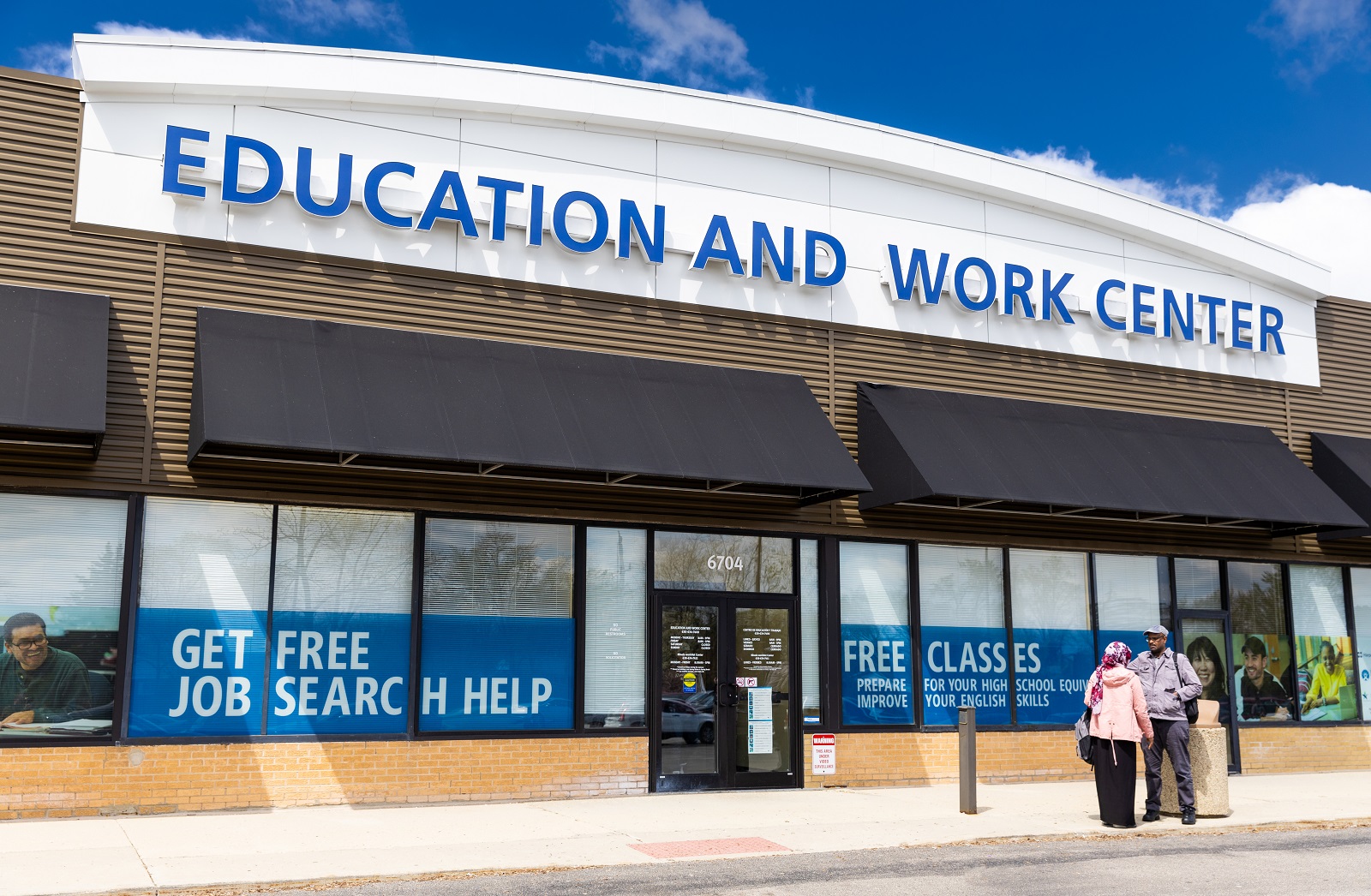 Harper is introducing new programs that will be offered through the Education and Work Center, including forklift operator certification and digital literacy courses.
"Harper can address these students' needs," Ivory said. "At EWC, we're providing them with an option to earn an Illinois High School Diploma, transition to credit classes and prepare them to enter the workplace."
Gadek-Stephan, who has been at EWC for about seven years, emphasizes the holistic approach instilled in the center – from wrap-around support to mini-celebrations of a student's new achievement or transcript. There's a reason some of EWC's most common referrals stem from students who bring their family members or friends to enroll at the center.
"We know what we do," Gadek-Stephan said. "We do something small for a person and it becomes a ripple effect through their family and through the community."