How two Harper College Faculty Fellows innovate with multimedia lessons
How two Harper College Faculty Fellows innovate with multimedia lessons

Harper College News Bureau

August 29, 2023

August 29, 2023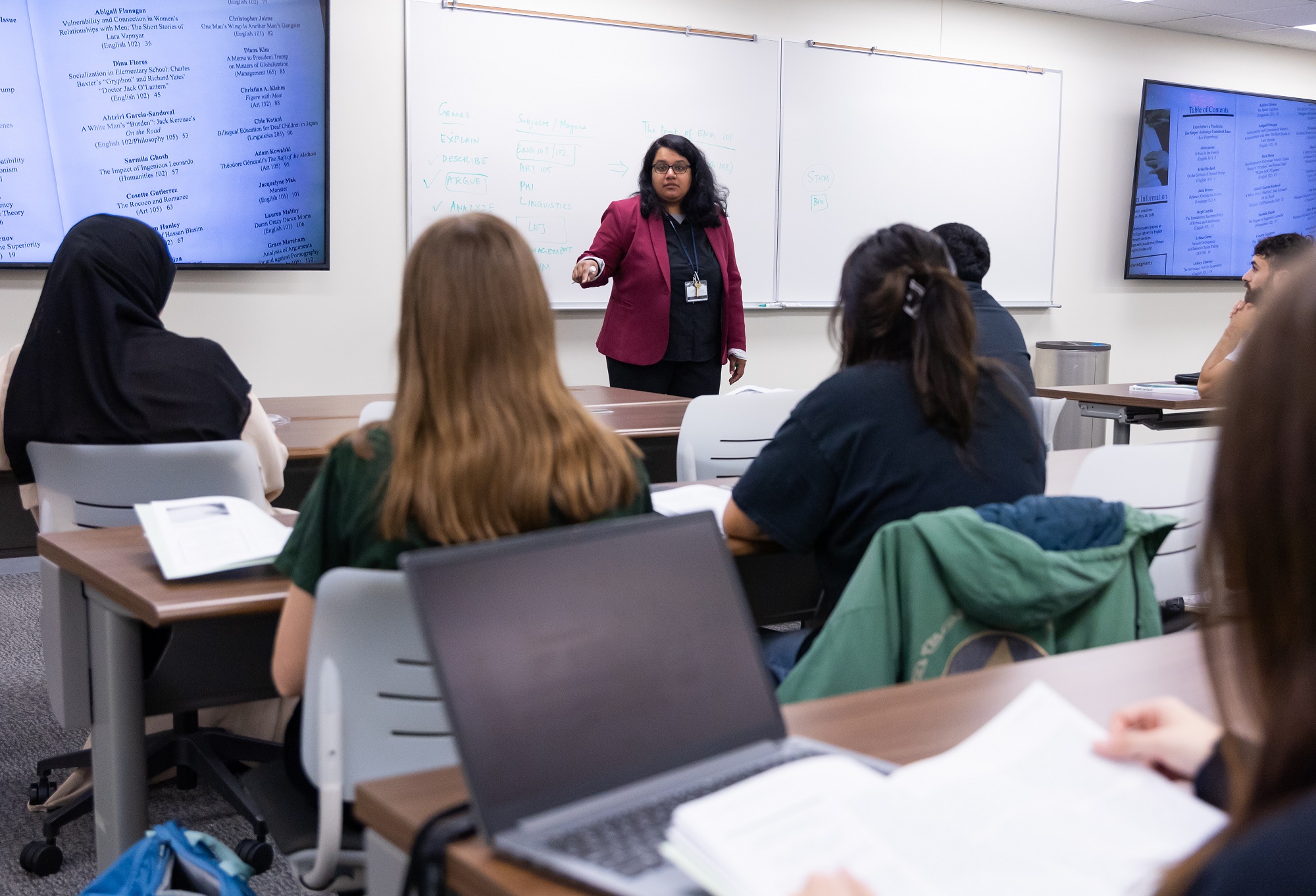 Harper College Instructor Ranjani Murali engages with their English class. Murali regularly uses memes to enhance interactions with their students, a creative approach that flourished during their time as a Diverse Faculty Fellow at the college.
To say Bethanie-Michelle Statler and Ranjani Murali are innovative educators is the understatement of the year. Step into their English or biology classrooms, and you'll bear witness to a pair of rhyme-dropping, meme-popping artists who infuse their lessons with relevant, fun techniques that help students engage with classroom concepts.
The pair of instructors have developed a reputation for innovative instruction that teaches valuable lessons without sacrificing fun – a core aspect of their teaching philosophies that flourished through the Diverse Faculty Fellows (DFF) program at Harper College, which was recently reimagined as the Leveraging Equity in Academia through Diversity (LEAD) Faculty Fellowship.
Statler and Murali represent a new beat on a familiar drum. You can have a lot of fun while learning complicated concepts in college.
At the heart of their approach are two principles Harper College looks for in faculty as a reflection of the student body: Digging deep to find themselves and expressing their authenticity in ways that shape their corner of the world.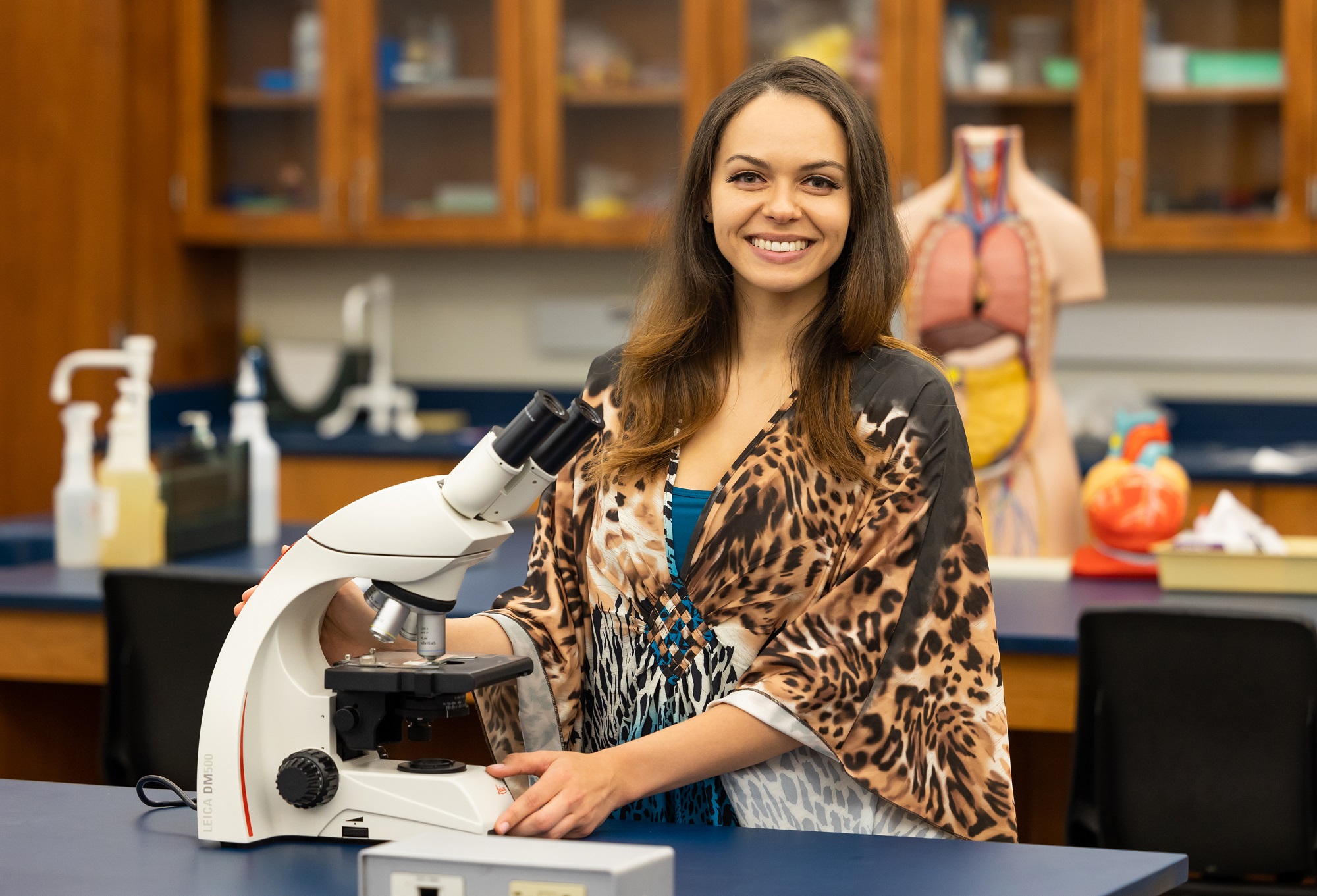 Bethanie-Michelle Statler is also a former Diverse Faculty Fellow at Harper College. She employs parody videos to underscore concepts in her biology lessons.
Dropping biology rhymes, right on time
Throughout her educational journey, Statler was inspired by impactful educators. Mr. Hsu used clever music videos to teach high school biology. Dr. Ball brought infections enthusiasm to Statler's years at Ohio State University.
Statler, better known to her students as Professor B, launched her own biology-focused YouTube channel in 2008, featuring original and parody music videos about concepts such as DNA structure, the metric system, fungi and more.
"There's a lot of research about how music can be helpful in education for young children," she explained, "and it can influence the brain the same way when we're older."
Statler joined Harper's faculty fellowship program in 2019 in hopes of becoming a community college professor. Through the program, she gained firsthand insights into what worked (and didn't) with each group of students. With that knowledge in hand, Statler has published 10 full-length song parodies for her students since joining the program.
With lyrics that enlighten and entertain ("the metric system ain't that bad/it's really all about moving the decimal a tad"), Statler helps her students connect with a range of biology concepts.
Her channel includes videos parodying the Erica Banks hit "Buss It" to enlighten about the properties of fungi, and Cardi B's "Money" to help students learn how to prepare microscope slides. Statler raps about macromolecules to the beat of Bia's "Whole Lotta Money" and explains DNA structure with a send-up of Latto's "Big Energy." But these won't be the last of her efforts to modernize her classroom to benefit students.
"I've just enrolled in a doctorate of education program in instructional technology," she said, "because I want to learn how to use technology to make the classroom better."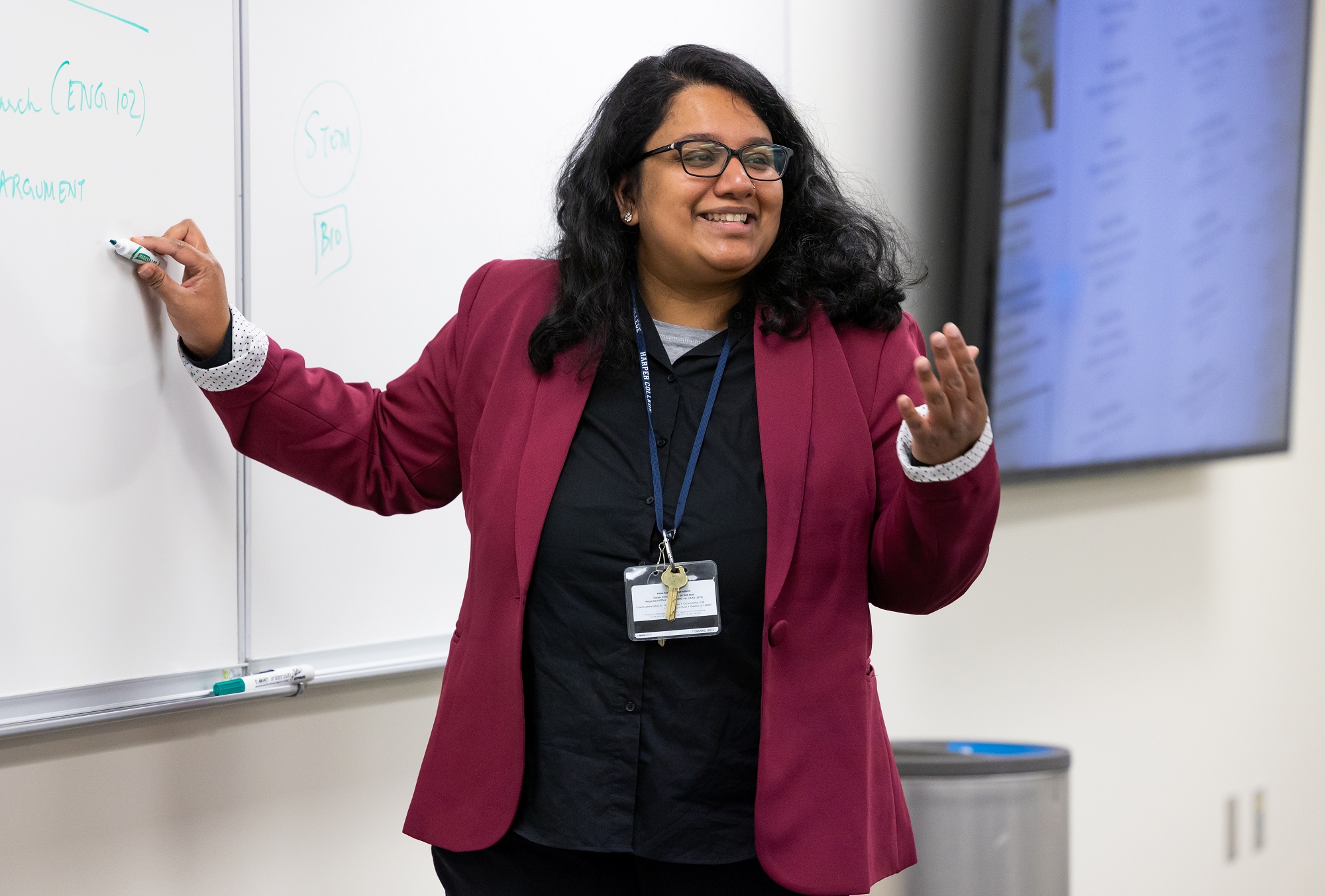 Murali said that the mentorship they've received at Harper and through the Diverse Faculty Fellowship has made them a more relatable instructor in the classroom.
To meme or not to meme: Is that even a question?
Published author. Award-winning poet. Meme master. These terms don't even come close to expressing the passion and pizazz Murali brings to the classroom.
"I used to be dry as a bone when I was teaching," they recalled. "I knew I needed to spice it up, so I used a template developed by my wonderful mentor (and fellow Harper professor) Dr. Judi Nitsch. Then I started making my own memes, which made me more relatable in the classroom. Now, students say 'Oh, we love the memes!'"
Through the faculty fellowship program, Murali was motivated to let their humor and unique perspectives guide lesson planning and move through daily life as a constantly learning creative. In the process, they became more relatable, more familiar and more comfortable – both with students and in their own skin.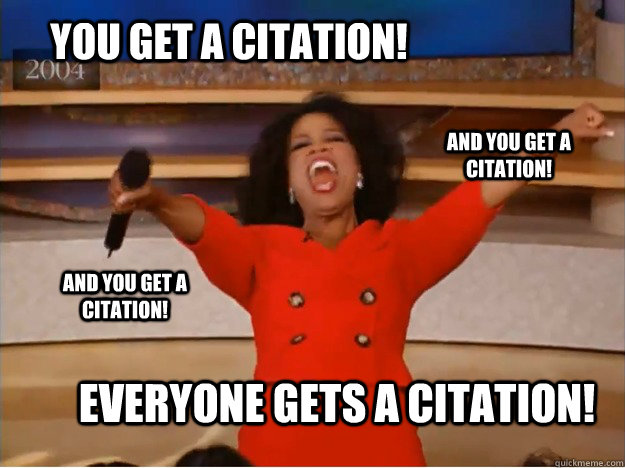 And once the memes started rolling out, there was no turning back – because it worked. Murali gets students laughing and holds their attention, even through necessities that creative writing students might find tedious, such as research source citation – cue the Oprah meme!
But it's not just in Murali's lessons that they communicate through memes. In interactions with students over email and academic pulse-check surveys, Murali shows care through inspirational and personal graphics.
With an MFA in creative writing, Murali is invested in the creative lives of Harper College English students, offering open-ended writing assignments, asking students to analyze artwork and moving beyond fingers-on-laptop learning.
Murali has taught as an adjunct professor at Harper College since 2015. Their first book of poetry, Blind Screens, won the Almost Island Manuscript Prize in 2017 and the Prabha Khaitan Women's Voice Award in 2019. Their latest, Clearly You Are ESL, was published in 2020 by The (Great) Indian Poetry Collective, and includes witty and pointed visual and mathematical poems.
Supported faculty empower Harper students
Harper College, its students and society benefit from diverse and creative perspectives. Through the college's faculty fellowship programs, educators from a wide range of backgrounds, perspectives and cultures receive one-on-one mentoring and introspective guidance that helps leaders including Statler and Murali extend their natural gifts.
"The college has been really intentional about making sure we give people from underrepresented groups a chance with this program," Murali said. "This is beyond equity talk. Harper College is walking the walk."
After many years of the Diverse Faculty Fellow Program at Harper, the program's final cohort will complete its second and final year this academic year. For 2023-24, the Office of Diversity, Equity and Inclusion led a redesign of the faculty fellows program to become the LEAD Faculty Fellowship – also a two-year program, with an expansion from two fellows (under DFF) to four in each cohort. The inaugural LEAD fellows are Isaiah Carrington (speech), Dr. Amaziah Finley (anthropology), Martinez E-B Garcias (art) and Nicole Mancha (English).
The program remains focused on the recruitment of racially diverse professionals to ensure that Harper's faculty demographics more closely reflect the college's student body demographics. Fellows are paired with mentors and receive evaluations and feedback from a divisional dean and a committee of their peers. They also participate in robust professional development activities and in shared governance committee and departmental meetings and earn a salary and benefits.
Both the DFF and LEAD Faculty Fellows programs are intended to bring a wide array of perspectives and approaches to the Harper College faculty to create a rich and equitable learning experience for all students.
"It's so important for students to see faculty who look like them, or with whom they have things in common outside the classroom," Statler said. "Representation really matters when it comes to making students feel more included, seen and understood."