President's Art Selection Award honorees embody collaborative spirit
President's Art Selection Award honorees embody collaborative spirit

Harper College News Bureau

August 15, 2023

August 15, 2023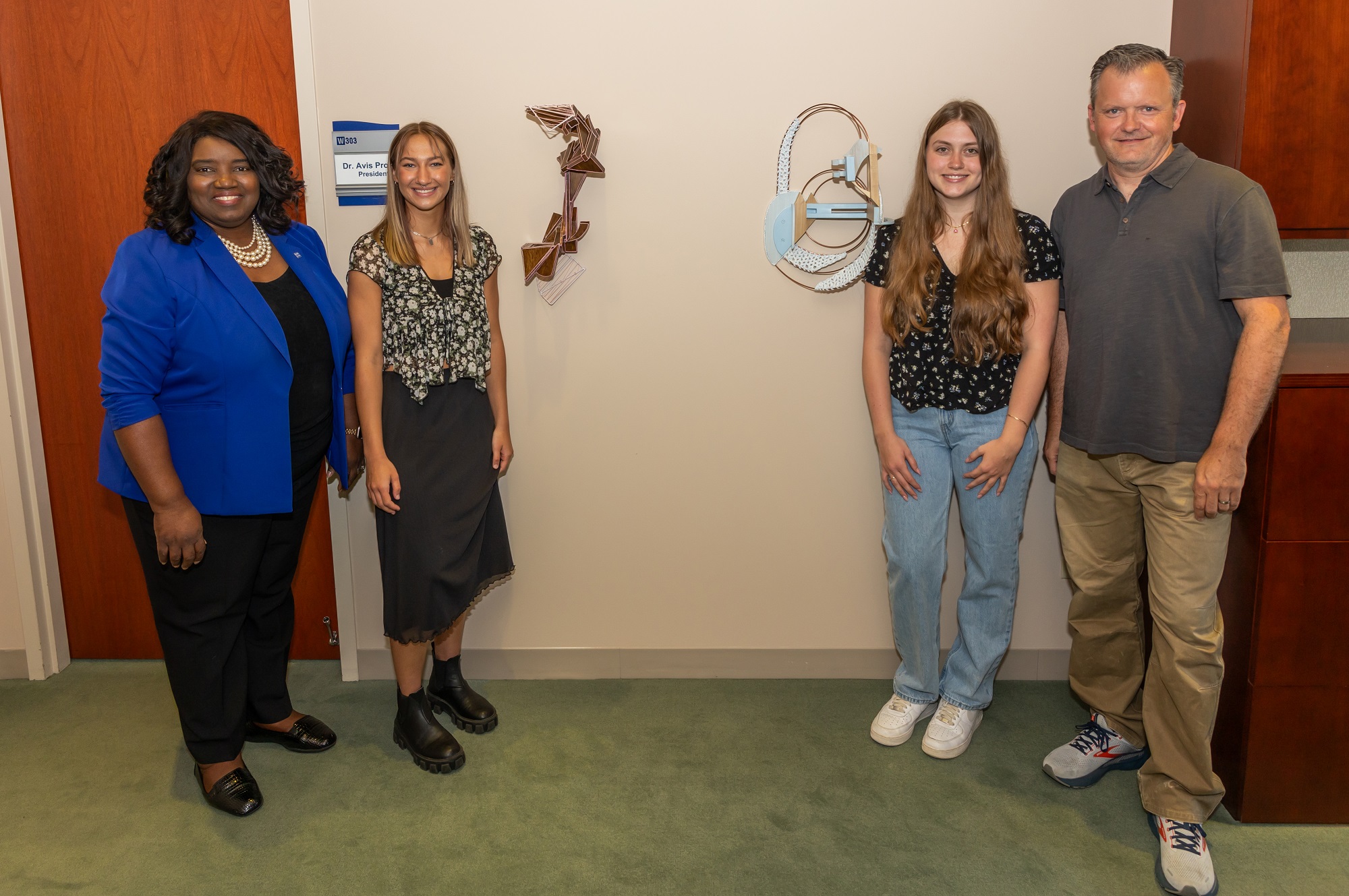 Dr. Avis Proctor (from left) chose sculptures by Olivia Maliszewski and Caitlin Baier to be installed outside her office for the 2023-24 school year. Both students were taught by Professor Jason Peot (right), who helped mount the award-winning pieces.
As the president of Harper College, Dr. Avis Proctor always celebrates successful collaborations – between the college and the community, between staff and faculty and, certainly, between Harper students. But little did she know she was highlighting an artistic collaboration when she chose the two recipients of the 2023 President's Art Selection Award from the annual Student Juried Exhibition.
Caitlin Baier and Olivia Maliszewski created the sculptures selected by Dr. Proctor, Harper's president, when they were students in Professor Jason Peot's Sculpture Studio course earlier this year. Each was working on a "recipe" assignment that Peot said was designed to challenge students' expectations by prompting them to take certain steps. One step involved separating the works-in-progress into three pieces. Another step required them to give one of those pieces to another student – a name picked out of a hat – to finish.
When Caitlin was working on "Untitled" and Olivia was creating "Untitled (roseate)" with wood and metal, they drew each other's names and were thrust together as collaborators.
"Jason wanted to teach us how unpredictable our works can be and that sometimes it's not going to be what you envision, but that it can still be cool," said Olivia, 20, from Huntley. "My piece reminded me of a model of a tree house."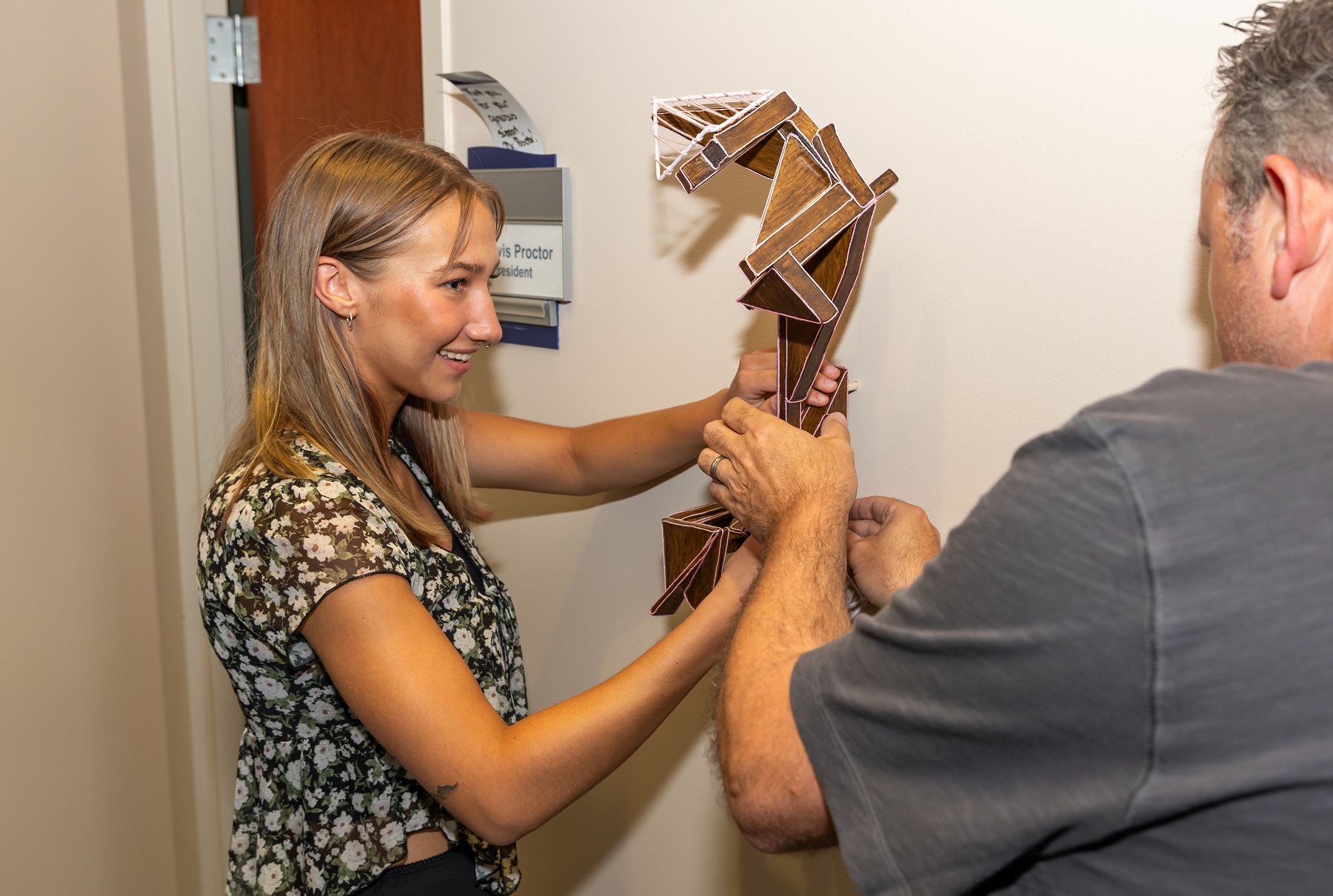 Harper College student Olivia Maliszewski (left) helps install her sculpture, "Untitled (roseate)," outside President Avis Proctor's office with Professor Jason Peot. Olivia was one of two student-artists chosen to receive the 2023 President's Art Selection Award.
While Olivia's sculpture is angular, Caitlin created a piece with rounded lines and some softer elements.
"I bent rods for my piece and added a little crochet," said Caitlin, 20, from Mount Prospect. "I wanted to balance out some of the sharper edges of the wood in comparison to the more curved pieces."
And now the students' distinct but complementary sculptures are placed side by side outside the president's office. Dr. Proctor, who was unaware of the connection between the pieces, awarded each artist a $300 stipend in exchange for loaning the pieces to the president's office for one year. Both students expressed gratitude and excitement for being selected.
Caitlin, who is set to graduate from Harper with an associate degree after the fall 2023 semester, is considering a future in interior design. Olivia, also set to graduate with her associate degree this fall, said her Harper experience has inspired her to pursue a degree in art education at one of a few area universities, and eventually a Master of Fine Arts degree.
As Professor Peot installed the two sculptures, the students marveled at Dr. Proctor's intuition in choosing these pieces for the President's Art Selection Award, a Harper tradition since 2015. Dr. Proctor recalled that there was also a connection between last year's recipients, who share Ukrainian heritage.
Once the pieces were bolted in place, Dr. Proctor admired how the three-dimensional works played with light and shadow. She and the students traded anecdotes about Harper's most famous lifelong learner, 100-year-old sculpture student Bernie Bluestein, and discussed the inspirations for these and other pieces they've created at Harper.
"I love education because we bring people from all walks of life together and we find common good, we carry out shared priorities," Dr. Proctor told the student-artists. "And professors like Jason Peot can introduce us to so much in their discipline and expand horizons. It's truly an honor to celebrate our students' artistic talents!"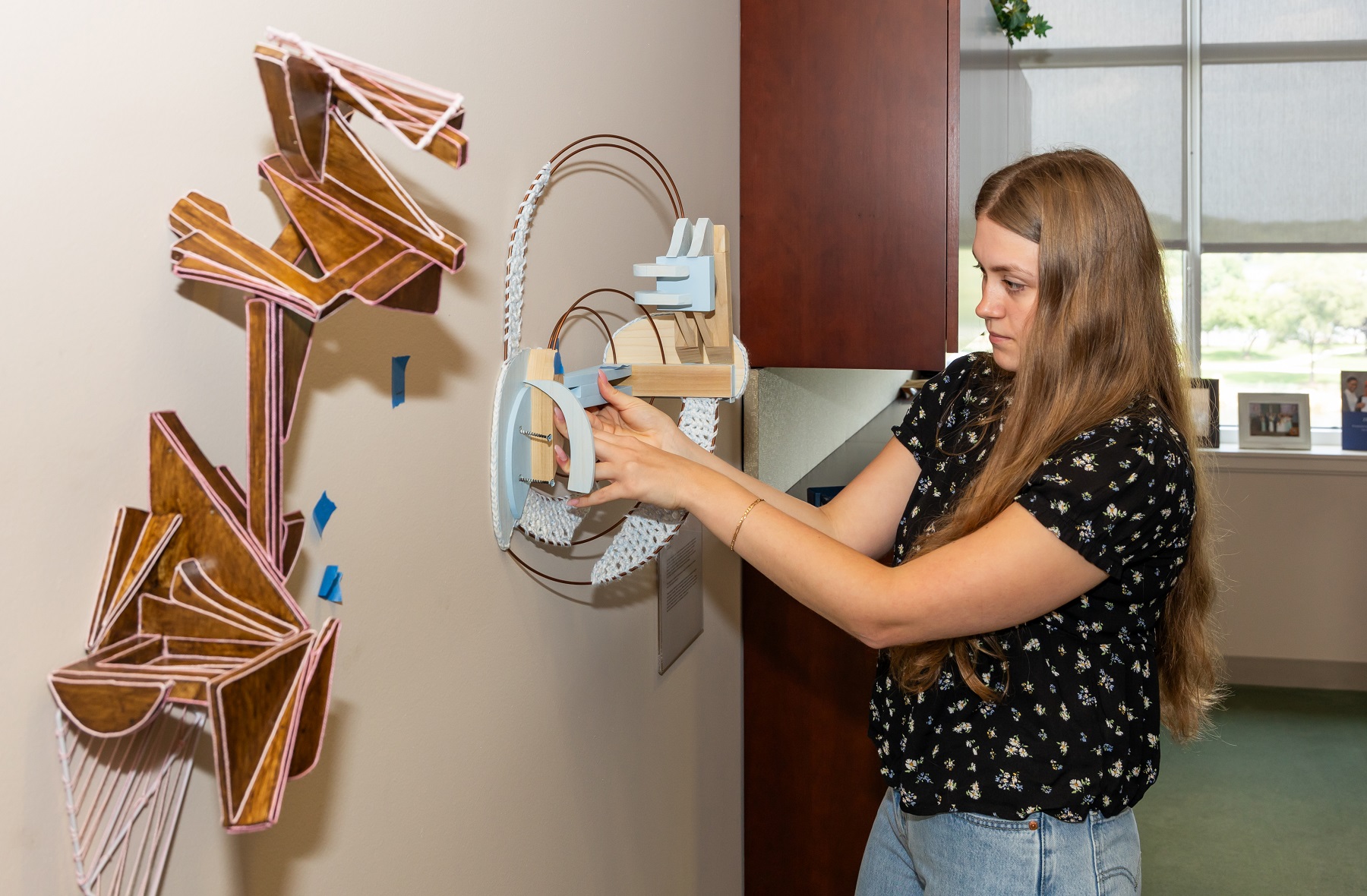 Harper student Caitlin Baier and her untitled sculpture were chosen for the 2023 President's Art Selection Award.