Music Center Coordinator Issa Boulos
Issa Boulos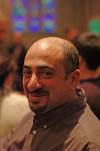 Community Music Center Coordinator
iboulos@harpercollege.edu
847.925.6659
Building C, Room C216
Issa Boulos is an international award-winning composer, lyricist and songwriter. His works have been performed by various groups and orchestras around the world. He studied piano, 'ud and voice at an early age and later pursued music composition with Gustavo Leone, Athanasios Zervas, and William Russo at Columbia College Chicago and with Robert Lombardo and Ilya Levinson at Roosevelt University.
Throughout his career, Issa has injected new life into his music by incorporating traditional instruments in innovative ways. He has composed music for full orchestra, chamber, mixed ensembles, and written hundreds of songs including several hits. Among his commissions are four pieces for the Chicago Symphony Orchestra, composition/performance for the Silk Road Ensemble, and original scores for award-winning documentaries, plays, feature films and musicals. Through these efforts, Issa has gained recognition in the United States, the Middle East, and Europe. He has served as a lecturer at the University of Chicago for nearly a decade and co-founded the Qatar Music Academy and acted as its Head of Music since its inception in 2010.

Mr. Boulos serves as Coordinator of the Harper Community Music and Arts Center.