Engineering, Math & Computer Science
Engineering, Math & Computer Science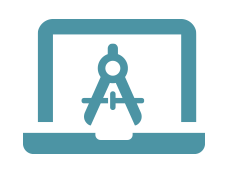 Learning the necessary skills for a successful career in the engineering, math or computer science field by obtaining a degree can help you discover areas you had never known before. A STEM degree is highly valuable and in high demand due to the numerous sectors within each broad topic.
Harper College offers career training in computer science, engineering and mathematics, allowing you to save money and easily transfer upon completion. Rigorous courses with small class sizes will prepare you for opportunities to continue your engineering education and eventually help you in your field.
Take transfer-ready courses. Harper College is a participant in the Illinois Articulation Initiative (IAI), a statewide agreement designed to help Illinois college students transfer easily.
By completing two years at Harper and transferring to a four-year school, you can save more than $18,000 in tuition and fees**.
Take advantage of apprenticeships and graduate debt-free while earning a salary. Harper College partners with large, medium, and small employers in a variety of industries to offer apprenticeship programs
Explore our programs
Harper College offers a number of engineering, math and computer science transfer programs. To get started, select one of the program areas below:
Interested in another subject? If you are interested in transferring to study a science, technology, engineering or math-related subject not listed here, please meet with an academic advisor to learn what courses to take to meet your academic goals.
Explore Engineering
Learn more about the Harper College engineering program, ideal for students who are interested in transferring to four-year universities.