Alumni ESL Program Success
Alumni credit ESL program as catalyst for success

Harper College Alumni

February 8, 2021

February 8, 2021
Alumni Spotlight Stories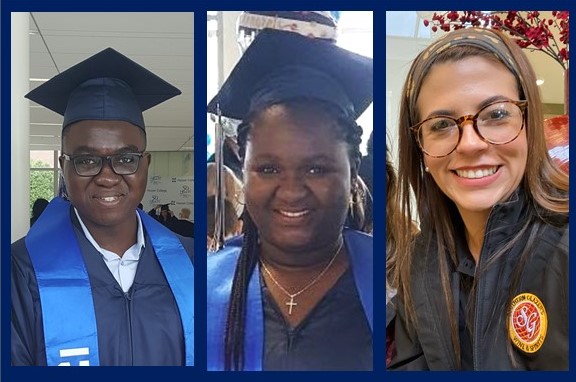 Alumni from left: Ahmed Akinyele, Suliat Akinyele and Veronica Naranjo.
When Veronica Naranjo moved to the Chicago area from Colombia in 2006, she had a college degree but she didn't speak much English and wasn't certain about her first steps in her new country.
After exploring area colleges, she enrolled in the ESL program at Harper College. Once at Harper, she quickly found that the program provided so much more than the language skills she wanted to improve.
"The Harper ESL program was one of the best experiences and decisions," said Veronica. "It created a community for me of others who were working toward the same goals."
She says she took advantage of all the opportunities Harper College provided her. She worked in the ESL Lab, joined the international students club and met lifelong friends.
Armed with the language skills gained through Harper, Veronica went on to earn her MBA from Roosevelt in Human Resources management in 2013. She currently resides in Dallas, Texas and works as an HRIS Specialist for Southern Glazer's Wine and Spirits Company, a job she says she loves.
"The ESL program at Harper gave me the opportunity and foundation to work as a professional in this country and for that I am grateful," said Veronica.
Siblings Ahmed and Suliat Akinyele were in high school when they moved with their family in 2010 from Nigeria to Elk Grove Village. They say the adjustment to their new home was a big one for each of them. Both took ESL at Elk Grove Village High School and successfully graduated. At the recommendation of Elk Grove High School Counselors and their dad, they each came to the decision to enroll at Harper College.
"When I enrolled at Harper, I tested into the ESL program," said Suliat. "People would say to me 'you speak so well' and I would respond that speaking is different than reading and writing in English. The program helped me learn the American system of reading and writing."
Like his sister, Ahmed enrolled at Harper College and tested into the ESL program. He says he found success because of the support systems in place at Harper that allowed him to grow.
"The personal connection with the professors at Harper helped with my approach to my education," said Ahmed. "Their support boosted my confidence so that I could achieve my goals."
Suliat completed the ESL program and then continued to work toward her associates in arts at Harper College. While a student, she joined the Black Student Union, International Club, and the One Million Degrees program. She graduated with her associate in arts from Harper College in 2017.
"I learned so much at Harper about myself and how to be patient with myself," said Suliet. "I had a successful foundation in my classes because of what I learned in ESL."
Since graduating from Harper, Suliat went on to earn her bachelors degree in social work, with a minor in ESL, from Northeastern Illinois University. She is currently enrolled at Loyola University in Chicago and working toward her Masters in Social Work with a focus on Leadership Development and Social Services. She has successfully interned at WINGS and at Georgetown University in Washington D.C.
While studying at Harper, Ahmed also joined the Black Student Union and One Million Degrees programs. He celebrated his graduation from Harper with his associates in arts 2018. In May of 2020, Ahmed marked another
achievement, graduating with his Bachelors in Arts from Columbia College in Animation Modeling. He hopes to eventually become a video game developer.
Ahmed and Suliat both credit the ESL, and the International program, with giving them a community that helped them along their way.
"Take advantage of Harper's resources," said Ahmed, "the organizations, counselors and professors."
Suliat echoed his sentiment and added, "Don't be afraid to ask questions and make connections with fellow students. It will help you go a long way."
To learn more about the Harper College ESL program, please visit the ESL Department website. Learn more about the Harper Office of International Education.