Empowering Women to Soar to Great Heights
Empowering Women to Soar to Great Heights

Harper College

April 4, 2014

April 4, 2014

Rita and John Canning
Catherine Clarke remembers being at a party several years ago with her ex-husband, who described her to a group as a baby chick—cute, but not very bright.
"I had been conditioned to not think very highly of myself," Clarke said.
The Hoffman Estates woman's next relationship turned violent, and Clarke found herself dependent on the food pantry and her church to help support her four children, the youngest of whom has autism.
Knowing education was the key to breaking the cycle of abuse and moving forward, Clarke found the Rita and John Canning Women's Program at Harper College, which provides educational support, resources and the opportunity for a fresh start to single parents, displaced homemakers and others—many of whom are survivors of domestic violence.
"Walking through those doors—that action—completely changed the trajectory of my life."
Rita and John Canning want those success stories to continue.
In March, Harper College President Dr. Ken Ender announced a $1 million gift by the Inverness couple, the first seven-figure donation in the College's 47-year history.
"We strongly believe in empowering women to soar to great heights," said Rita Canning, who also serves on the Harper College Board of Trustees. "We're inspired by the countless number of courageous women, many in their darkest moments, who have turned to Harper College to start on a new path. By offering the support, resources and often the confidence they need, the Women's Program impacts the lives of women and their families in a truly meaningful way."
Ender told more than 100 people gathered at the Wojcik Conference Center on the college's main campus in Palatine that Harper will name its future One Stop Student Center after the Cannings to recognize their generosity and longtime support. The planned student center, which is scheduled to open in 2017, will consolidate the college's admissions, registrar, financial aid and business offices, making it easier and more convenient for students to enroll at Harper.
Clarke, who spoke at the reception, graduated from Harper in 2011 and received her bachelor's degree from Elmhurst College just last month. She earned a 4.0 GPA from both institutions and will continue on to a prestigious master's degree program in art therapy in the fall.
Catherine Clarke's transition began with Harper's Women's Program.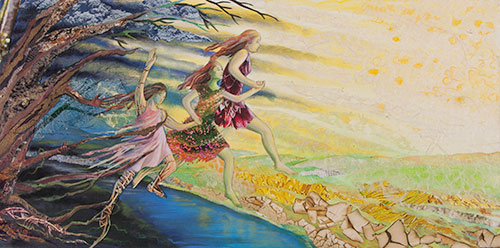 She presented the Cannings with one of her paintings. "Jump" depicts three young women holding hands and jumping out of a dark wilderness into a field of bright sunlight. She said it represents women helping other women through and out of trials. Her transition began with Harper's Women's Program.
"I learned there to push harder and always climb higher," she said.