Motorola Solutions Foundation Recognizes Harper Faculty
Motorola Solutions Foundation Recognizes Harper Faculty

Harper College

July 6, 2016

July 6, 2016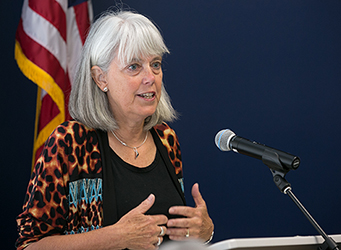 We are proud to announce Wendy Mertes as the 2016 recipient of the Motorola Solutions Foundation Endowed Award for Teaching Excellence. Professor Wendy Mertes has been a faculty member at Harper College for the better part of two decades. She has served on and chaired several shared governance committees. Her excellent contributions to the tenure and curriculum processes at Harper have made Wendy an expert on campus and the "go to person" for questions and advice about these important processes. Additionally, as a teacher in the field of education, she has been a constant and valuable resource for countless professors learning and refining the art of teaching.
Professor Mertes is committed to the study and practice of early childhood education. She has served as department chair and coordinator of the Child Learning Center at Harper. In 2012 Professor Mertes completed a sabbatical during which she visited early childcare centers throughout the country, learned best practices, and brought that information back to Harper in a continual appraisal of the early childhood department and center at Harper College. Her advocacy has been recognized from experts in her field and by Harper College. Professor Mertes was awarded the 2013 Children's Champion Award by the Illinois Association for the Education of Young Children and the Harper College Board of Trustees recognized the significance of Professor Mertes' career by awarding her the distinction of Professor Emeritus.
The Motorola Solutions Foundation annually awards one grant to a faculty member who has made outstanding contributions to the education of students, the life of the College, and the community. The awardee must demonstrate continued commitment to professional excellence.
Professor Mertes retired at the end of June and feels that receiving this award was the capstone to her career. She will use the monetary award she received to purchase a new piece of outdoor musical equipment and donate it to the Child Learning Center playground at Harper College. Although she will not be a daily physical presence at Harper anymore, her generous spirit and nature will continue to serve and support Harper College students.