Positioned for Future Success
Positioned for Success

Career and Technical Programs

February 18, 2016

February 18, 2016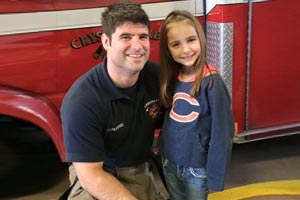 Joseph Rosner graduated from Harper in 2013 with an associate degree in Fire Science Technology. Now a firefighter-paramedic with the Crystal Lake Fire Department, he describes his career journey.
"Harper College has been instrumental in not only helping me get hired as a full time career firefighter, but being set up in a position for success once I got hired. The department that I work for had such positive experiences with the firefighters they hired already having an A.A.S. in fire science, they awarded additional preference points to candidates having their fire science degree. The preference points I received positioned me to be hired immediately.
Once hired as a probationary firefighter I felt confident I would succeed and make it through probation with the foundation my degree provided me. I was knowledgeable with basic fire service skills and operations while simultaneously knowing how to respectfully conduct myself.
I'm very proud of my degree and tell anyone who has interest in becoming a firefighter that the first step is enrolling into the fire science program. Just contact Professor Giordano and he will bend over backwards to help you out in becoming a career firefighter."