Beauty By Juliette

Kaye Medina

December 14, 2022

December 14, 2022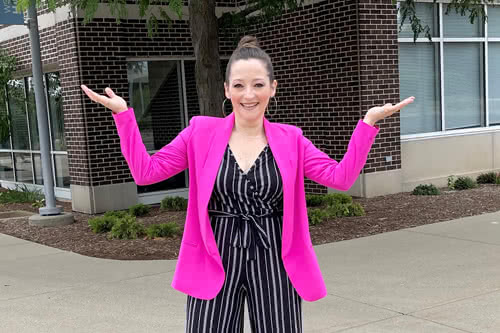 To say that COVID-19 was a global game-changer would be the understatement of a lifetime. Businesses of all types have faced unprecedented operational challenges and economic losses; particularly those in the service industry. JPMorgan Chase, in its article, "Small Business Finances in Illinois during the COVID-19 Pandemic" cited personal service firms as having been the hardest hit, with a negative revenue growth rate worse than that of the restaurant industry. Now, imagine the impact on a business that literally provides face-to-face service. Beauty professionals found themselves in a worst-case-scenario, with their industry all but shut down due to the pandemic. Confronted by this dire challenge, veteran freelance makeup artist Juliette Molina Bundhund launched Beauty By Juliette, a new business that would not only survive, but thrive.

Why did you choose to start Beauty By Juliette?
After being in the beauty industry for over 20 years as a freelance makeup artist working with photographers, tv commercials, special events, celebrities and bridal beauty, the pandemic halted my work. I was forced to reevaluate my services and the future of my in-person business and, in 2020, I decided to pivot and open Beauty By Juliette. I now use virtual tutorials, workshops and live-streaming sessions to work with clients worldwide, enhancing their makeup skills and confidence.

Tell us a little about your business and what makes it unique.
Beauty By Juliette offers a range of innovative beauty consulting services designed to empower clients to upgrade their looks and boost their self-confidence, whether for a special occasion or day-to-day life. A frequent request is to eliminate confusion around makeup products and application techniques, especially in this digital era, where so much time is spent on virtual screens. I provide solutions to clients' concerns via education, tangible solutions, and product knowledge, while highlighting each individual's inner sparkle. My website, beautybyjuliette.com, also offers an informative blog and a shop to purchase my hand selected LimeLife by Alcone beauty products.
What makes Beauty By Juliette unique is me. Through my extensive experience in the beauty industry, my theater/acting performance background, and my being a homeschool parent of two daughters, I have gleaned a particular set of skills that allow me to excel at leading clients through and beyond the makeup. Combining those skills with excellent communication and master-level training, I provide clear, customized coaching that's palatable, repeatable and accessible. As a Hispanic, bilingual entrepreneur, I continually serve a diverse market.

What was the problem you were facing when you decided to contact the Illinois SBDC at Harper College?
Faced with the pandemic, I realized I needed to pivot from in-person service to a virtual platform. I needed technical support for my new endeavor as I upgraded my website to establish my business, as well as help with operational and strategic business development matters.

How did the Illinois SBDC at Harper College help with the problems you were having?
Advisor Jennie Johns helped me tremendously with technical implementations. She worked with me to create a services page on my website, where customers can book a variety of virtual sessions and purchase gift cards, and within two months, I began receiving online bookings. She also helped me incorporate my LimeLife by Alcone store, via affiliate links in my blog posts and a store external link. To improve my business communications, Jennie researched email campaign platforms and connected my Google Workspace business email to my Squarespace account.
I worked with several amazing advisors, who empowered me with their knowledge and helped me build my new business, while boosting my confidence as an entrepreneur. They provided expert advice in how to apply the knowledge and base I had already garnered in my field to enable my new endeavor and bring my idea to fruition. My experience with the advisors went above and beyond; they each have been pivotal to my success and for that, my admiration and gratitude is profound.

Would you recommend small business owners use the services of the Illinois SBDC at Harper College?
I absolutely do and I already have! I am deeply grateful for the knowledge, professionalism, kindness, patience and support I have received by all the advisors I have worked with at Harper. The SBDC helped me achieve all my goals thus far and I look forward to continuing to work with them as my business grows.

What does the future look like for Beauty By Juliette?
I have big dreams and goals for Beauty By Juliette. I aim to expand my global reach and grow my business, one empowered, confident person at a time. It is important to me to provide value as I grow and make a positive impact in the world. I want my services to be accessible to women everywhere. Down the line, I hope to make a difference to women in challenging circumstances via philanthropic endeavors.

If you had one piece of advice to give someone just starting a small business, what would it be?
Love what you do and give it your all. I also like what Mr. Rogers said, "look for the helpers." Being an entrepreneur doesn't mean you have to do it alone. Thankfully, there is support in places like the SBDC that will come alongside you and help you make your business dreams come true, if you're willing to work hard, be coachable and consistent.


Website: BeautyByJuliette.com
Facebook: https://m.facebook.com/100049166963673/
Instagram: @Julesbmakeupgirl: https://www.instagram.com/julesbmakeupgirl/
LinkedIn: https://www.linkedin.com/in/juliette-m-89125aa/