Betty Gialdini, Founder of Harper's Fashion Design Program
Betty Gialdini, Founder of Harper's Fashion Design Program

Communications

August 17, 2017

August 17, 2017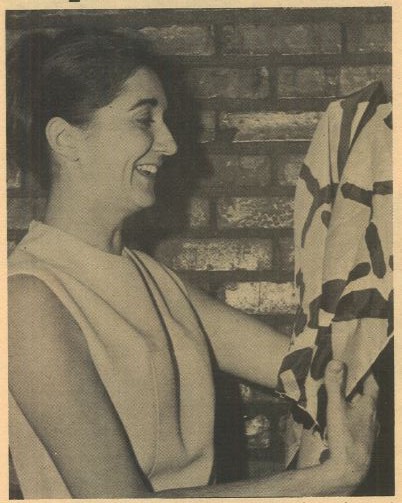 The opening of William Rainey Harper College was the Palatine area's big new sensation in 1967. A number of classes were already being offered in several temporary locations but the new building had not yet been built.
I read that there was to be an emphasis on career programs as well as the usual academic programs and that graduating high school students as well as adults were being targeted.
I truly believed that a fashion design program would be a terrific addition to the career program section. So, I approached Dr. Lahti in the spring of 1967 at his temporary office in downtown Palatine to discuss the possibility of starting such a program.
I took my resume, drawings, and some garments I had designed for him to review. Dr. Lahti was overwhelmingly enthusiastic at the prospect of adding a fashion program to Harper's career programs. He asked if I had a master's degree and I had to admit that I only had a Bachelor Degree in Design. I hastily added that I had much experience in Design, Marketing, Illustration, Fashion Show Coordination, etc. He said he was impressed but that "rules are rules" and I would need a Master Degree for the position. I quickly asked if I could have the position if I received my Master degree. He merely smiled and said to get started.
I started my studies at the School of the Art Institute in Chicago in the fall of 1967. I further decided to get a Master of Fine Arts degree for a total of 60 credit hours. About 2 months into my studies, Dr. Lahti called and asked me if I was working on my master's degree yet. I happily told him that I was and he offered to hire me part time as a consultant. He explained that much work had to be done before a new program could become a reality. I, of course, was thrilled.
The "much work" he mentioned was an understatement. Feasibility studies had to be done. I had to show and determine a need for such a program. I visited all the high schools in the Harper area and consulted with the respective Home Economics teachers. I also visited with all the Home Economics students, explained what Harper was proposing, answered questions, and received additional feedback. In addition, I contacted numerous fashion companies in Chicago and surrounding areas to determine their interest as well as specific training and abilities they would want in prospective employees.
I wanted to be sure our students could continue on to a four-year college if desired. That necessitated consulting with the counselors and filling out additional forms.
Harper was the only Junior College in a 6 state area that had such a program. I consulted with faculty and students at the Fashion Institute in New York as well as Miami Dade in Florida. As a result, I received more valuable information.
It was finally time to compose the sample curriculum for the two-year associate degree program. Additionally, in conjunction with Harold Cunningham, Assistant Dean of Career Programs, I put together the final feasibility study. Available space (only had one building at the time called the Learning Resource Center), projection costs and budget had to be determined as well.
Text books, equipment, muslin fabric, drafting paper, sewing machines, dress forms and miscellaneous equipment for the students had to be ordered as well as resource books for the library. Slides for History of Costume had to be made up. Ray White, Harper's photographer, made them from a deluge of books I gave him.
I illustrated a number of flyers for our Fashion Program and personally delivered them to the surrounding area schools. In addition, I revisited the Home Economics Teachers and students to be sure they were aware of Harper's new program in Fashion.
Publicity was important. I contacted a number of newspapers and they cooperated extremely well. I also contacted a number of local women's groups and was invited to come and speak about our new program.
Many trips were made to Chicago industry to get them aware of and involved in our Fashion Program. I became a member of the Fashion Group of Chicago in order to increase contacts, foster interest, and for possible job situations for our students. I put together Advisory boards from industry and scholastic areas.
The process of finding instructors was a real project but my persistence paid off. Chieko Nambu and Christine McCormick, both extremely talented, were hired to teach draping and drafting. In addition, we hired an excellent instructor for textiles, Sandy Clark. I, of course, was also going to instruct classes. We were all set - or I thought.
The WORD was out! On registration day, Harold Cunningham, Assistant Dean of Career Programs, came to me with the message that we far exceeded our 24 student maximum - and still had the rest of the day to go. He told me that we were going to add an evening session as well. I explained we only had teachers for the day program. He said he had trust in me to find what we needed to make it work - and he was right. Harry Gilbert, well known in the Chicago area fashion field, accepted the position.
It was time to really "kick in gear." I had to develop lesson plans for all classes, request more supplies, and arrange meetings with instructors for "unity." In addition, I had to make plans for the classes I would be teaching. Classes would start SOON!
Our first class started in September of 1969.
I know that "legend" says that some stores gave material to help out with the expense caused by additional students. However, to my knowledge, that is not correct. Harper paid for whatever was necessary.
I think that the rumor started from the fact that Crompton Fabrics of New York gave each second year student five yards of fabric to design a garment. The company voted on best garments made from their fabric and gave a monetary award to the first and second place designs.
Fabric World Inc. in Rolling Meadows gave $100 to our fashion club "Harper's Bazaar" to be used for the Fashion Design Program needs in June of 1972. This was a "thank you" to students who put on a fashion show for The Chicago Home Economists. Mount Prospect Women's Club also gave a number of monetary scholarships.
The American Technical Education Association held a fashion seminar at Harper as part of its yearly convention with our fashion club, Harper's Bazaar. As a result, more scholarships were acquired.
Prior to our first Harper Fashion Show, I formed a Jury Show Committee. It consisted of eight individuals from the fashion and merchandising industry. They selected specific garments, from the entire student collection, to be shown in the main show.
Our very first fashion show was FREE. We had three good size blocks with steps built and carpeted. The students would just walk out, go up one block, pose, come down and go on to the next. Our second show (Still FREE) had a T-shaped walk way. Harper has come a LONG LONG LONG WAY, thanks to the efforts of all that nourished the small seeds from the beginning and their present-day program and fashion show are absolutely incredible in EVERY way.
I resigned, due to family responsibilities, at the end of the academic year in 1972. Dr. Lahti asked me to recommend someone as my replacement and I recommended Chieko Nambu, who was hired shortly after. When Chieko resigned, Sandy Clark become Coordinator.
Many thanks to everyone for all of their professional expertise, effort, hard work, patience, and endurance. Rah Rah…Harper! Go! Go!