Promise Scholar will be first in her family to go to college
Promise Scholar will be first in her family to go to college

Communications

April 18, 2017

April 18, 2017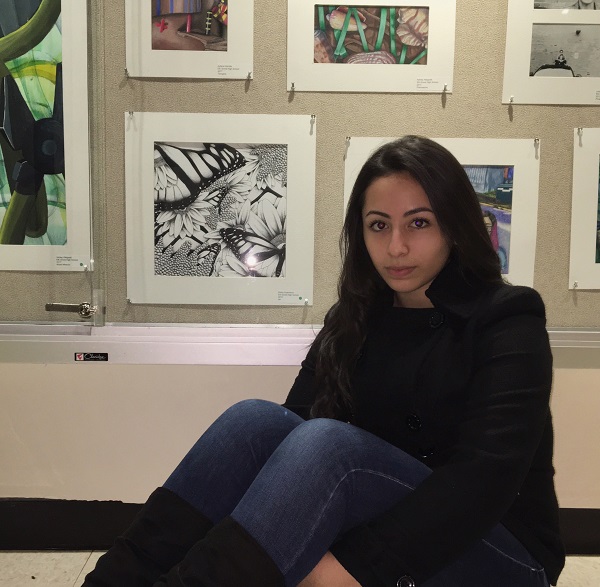 When Diana Guarneros thinks of college, she envisions herself in an art studio surrounded by sketchbooks and sculpting tools, working to bring her ideas to life.
With her good grades and long list of co-curricular activities, the Elk Grove High School sophomore is doing everything she can to get there.
There's just one problem.
"I've checked out some schools and they're pricey," Diana said. "Attending could be tricky."
That's why Diana didn't hesitate to sign up for the Promise Scholarship Program last year as a high school freshman. The idea of earning up to two years of free tuition at Harper College by meeting certain benchmarks – all aimed at promoting life skills and habits that will help students succeed in college and in life – was an opportunity she didn't dare pass up.
The 15-year-old from Mount Prospect will be the first in her immediate family to go to college.
"My parents didn't get these kinds of privileges, so they're very excited by a program like this," Diana said.
As part of the first class of Promise Scholars, Diana quickly embraced the program's community service criteria. In addition to playing on Elk Grove's girls' volleyball team, she manages the boys' volleyball team, mentors junior high students through the Estudiantes Unidos club and volunteered at a summer camp for kids in a Des Plaines area mobile home park.
She's also becoming familiar with Harper itself through the Harper College Regional High School Art Show, an annual juried event that draws hundreds of submissions from area high school students. In fall 2016, Diana's 2D drawing earned an honorable mention while her 3D sculpture placed third. Associate Professor Stephany Rimland said the show, which dates back more than 30 years, is an excellent opportunity for young artists to have their work recognized and displayed.
Parents Inez Delgado and Alejandro Guarneros described Promise as a very welcome stress relief.
"When we think about Diana attending college, it's hard to think about anything other than how expensive it is. It would be very difficult to handle financially," Alejandro said through an interpreter. "This is a huge opportunity for her. She's a tenacious kid who has high standards for herself. She likes to be challenged, so I know she'll be successful."
David Maya, who works as Elk Grove High School's Latino Family Liaison, agreed Promise can be a game-changer for families like Diana's.
"This is such a great opportunity for these kids, especially those who don't have as many options when they graduate," David said. "Promise will allow them to fulfill their dreams."