Ergonomic Bottle Caps, LLC
Ergonomic Bottle Caps, LLC ergobottlecaps.com

Kaye Medina

December 14, 2022

December 14, 2022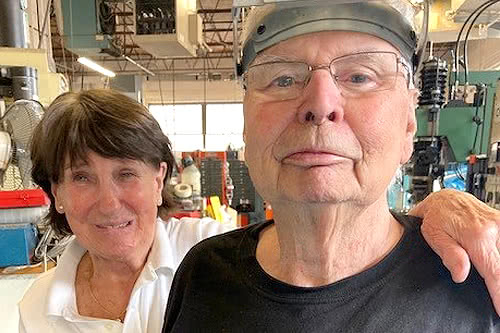 Approximately 50 billion water bottles per year are sold in the U.S., yet many people are unable to open them due to manual dexterity issues. Andrew Ziccardi realized this on a sweltering day in 2010, when an elderly woman asked him to open a water bottle for her. The realization sparked a quest to invent a product that would empower people to easily twist off the small lids. In 2015, Andrew launched Ergonomic Bottle Caps, LLC, with its flagship consumer product, ErgoOpenerTM, available on Amazon as well as in stores in Illinois, Arizona and Ohio.
Why did you choose to start Ergonomic Bottle Caps, LLC? (include background as desired)
In August 2010, I was a medical equipment salesperson and was heading to my last call of the day. My client, a woman in her 80s, was trying out her new walker when she became overwhelmed by the heat and humidity. She had bottles of water in the refrigerator, but couldn't open them. When she asked me to twist the cap off for her, I realized that many seniors struggle with the task.
After five years of research, I created my first patented product, the Ergo CapTM. This convenient cap has flanges on both sides and a fin on top, and can be fit to any size bottle. While revolutionary to the industry, this product is designed for manufacturers to use in production. To get a useful product into the hands of consumers, I created and patented Ergo OpenerTM, a small, reusable tool that can be used to open bottle caps that are 25.5-28 mm in diameter. At this size, the consumer is able to open approximately 95% of generic size water bottles.
My sister, Northwestern University graduate Phyllis Ziccardi, said it best, "This product helps with the simple everyday task of opening up a bottle of water."

Tell us a little about your business and what makes it unique.
The Ergo OpenerTM is made in the USA and I am adamant that it always will be. In fact, my production is local, with manufacturing and packaging done in Illinois and bags from Wisconsin. Not only is my product American-made, it is affordable, with the reusable three-pack priced between $6.99 and $7.99 (pending location).
While researching my product, I tried to consider how to maximize its functionality. Because many of us consume water bottles on the road, I designed the Ergo OpenerTM to be portable. One of the opener's key features is that you can carry it with you by putting it on a keychain or attaching it to a lanyard and clipping it to a purse, backpack, sports bag, belt, and more.
I feel very proud when I read reviews and letters from customers, thanking me for making their lives easier. My business has been featured on CBS News: Entrepreneurs Over 50 Take The Startup World By Storm - CBS Chicago (cbsnews.com) and on AARP's Work for Yourself@50+ Success Stories: Work for Yourself@50+ (aarpfoundation.org)

What was the problem you were facing when you decided to contact the Illinois SBDC at Harper College?
I'm learning on the run. All of this is very new to me and I wanted support and guidance to do it right the first time. I had previously taken a Work for Yourself@50+ workshop by Marge Johnsson, and she recommended that I contact the Illinois SBDC at Harper College, where she is an advisor.

How did the Illinois SBDC at Harper College help with the problems you were having?
Marge, Jennie Johns, Cheri Kretsinger, and Dennis LaPorta have helped immeasurably with many aspects of my business, including: helping with packaging and design; website design and implementation; writing scripts for sales calls with senior executives; drafting a Non-Disclosure Agreement to protect my product as I demonstrated it; and converting all my product and process knowledge into quantifiable spreadsheets in Excel. The team has provided much comfort to me by knowing that there is someone I can ask questions of and get practical advice and information. Although Ergo OpenerTM has only been available on Amazon for a few months, I've already sold nearly 2,000 units. I'm also increasing my presence in retail stores in the Midwest.


Would you recommend small business owners use the services of the Illinois SBDC at Harper College?
Absolutely, these services are great tools for starting, growing or maintaining a business. With limited funds and starting a new business, the opportunity to be able to reach out to the Illinois SBDC at Harper College is extremely beneficial to me.


What does the future look like for Ergonomic Bottle Caps, LLC?
I strive to succeed. It takes a lot of energy, a lot of sweat equity, money and determination – if not tenacity – and I am determined to keep growing. The 2020 population data census shows that 52 million people in the U.S. are 65 or older, jumping to 70 million in 2030. The majority of my customers are in this demographic and I conservatively estimate that 10-20% of them struggle to open a water bottle. Add in young children and people with health issues and the target market for my product is 30 to 40 million people in the U.S. alone.


If you had one piece of advice to give someone just starting a small business, what would it be?
Make sure that the product you're trying to build is helpful, because in this day and age there are so many gadgets and tools and products out there that just sit on the shelf and don't move. Once you have created a useful, desirable product, you have to know how to advertise. I have learned to build product awareness and do it the right way, so it's economically feasible for me to succeed.