Urn Envy Chosen for Fourth Annual President's Art Selection Award
Urn Envy Chosen for Fourth Annual President's Art Selection Award

Communications

August 22, 2018

August 22, 2018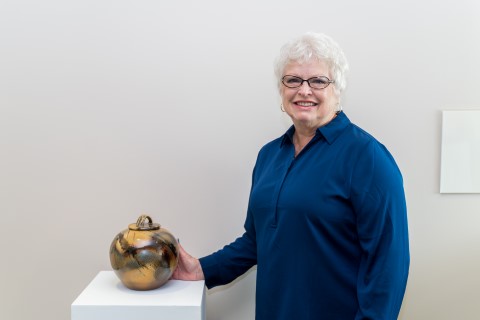 Mary Jane Kirkwood has been an art student at Harper for 25 years. She entered her piece, Urn Envy, in the Spring 2018 Juried Student Exhibition because she had received so many compliments on the piece, particularly the glazing. She never imagined Dr. Ender would select it for this year's President's Art Selection Award.
When Mary Jane began taking classes at Harper, the art classes were held in Building U – anyone know where that building is?* Perry Pollock was her teacher at the time. "The curriculum was pretty aggressive for beginners," recalled Mary Jane. "One of the assignments was to throw, glaze and fire 10 pieces using the wheel. I kept putting off working on the wheel. I had seen people spinning clay and commented to Perry, 'That's easy, anybody could do that.' I remember him smirking and saying, 'Make sure I am here the first time you try.'" Mary Jane quickly discovered that using the wheel was much more difficult than she imagined, but with practice she learned to master control over the clay and now throws some lovely creations, including the piece she entered in the Student Exhibition.
How did this piece come to be named Urn Envy? Originally, Mary Jane was creating vessels thinking people might use them as cookie jars. When her mother passed away, they needed an urn and decided to use one of Mary Jane's jars. This led her neighbor to ask, "Do you have one for me?" It was never her intention to go into the urn business, but people kept asking for them. At one point, a friend commented, "I have urn envy" and unwittingly supplied Mary Jane with the name for her piece.
Nowadays, Mary Jane's art class is held in the Art Department's Ceramics and Sculpture Studio in Building L. The studio is a vast improvement over the earlier space. "If you are an artist and have been to other college art studios, you would say they are nice, but they can't compare to Harper's – it's a dream," noted Mary Jane.
Harper's studio is one of the best three-dimensional studios outside of Chicago. It provides the latest tools and equipment for a wide range of media. There is an extensive wood shop, a bronze foundry, a welding shop, multiple kilns for firing clay, a glaze mixing room, a clay mixing room, wheels for throwing pots, and a multi-use space for students to work on their studio art projects. Students are able to take credit and non-credit classes in ceramics, sculpture, 3D design, bronze casting and jewelry.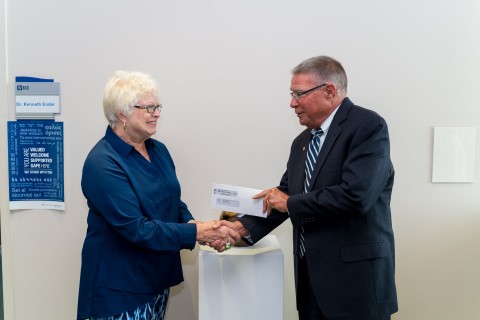 This is the fourth year Dr. Ender has selected a piece of student art to showcase. The selected student receives a small stipend, and in exchange will loan the piece to the President's Office for one year.
Take note of the piece the next time you are near the President's office in Building W; it will be on display through summer of 2019.
*Answer: Behind Building B.